After Viewing
Ready to proceed? Please read on...
Thank you for viewing a Go-Pod - we're delighted that you liked it!
This page provides details of available offers & information on how to proceed with your purchase.
All Go-Pods are the exact same size, shape and layout. The only difference between them is the choice of accessories added to suit peoples own way of camping.
Therefore having seen one, you are in a very good position to order without further travelling. Even our Head Office showroom couldn't provide better information!
The interior of the owner's Go-Pod you viewed might not be the latest version, so please review the 'Look inside' video above for the current design. No special effects are used but please note that the standard fabric was changed to a plain beige material, (ref 118), from 2018.

Please click here to order via our dedicated online shop. A new window will open on your computer, leaving this page open to refer to.
At the online shop you'll be able to review all three models without obligation & find details of what is included.
Once decided, just complete the screen & 'Add To Basket'. After which you'll be able to 'Customise Your Go-Pod' - adding your own choice of extras.
Click on an accessory's thumbnail image to open it's page, for full product information and customer reviews. If you like it - just click 'Add To Basket' then continue shopping or go to checkout.
Offers
We have three offers available and these remain the same whether you view with an owner, visit our showroom or see us at a trade show. There are no better offers available at any time.
Offers are available for orders placed within 5 days of your viewing date.
Offer 1: For the Standard model - Get up to £300.00 of free accessories. Use discount code ACCS300 at checkout.
Offer 2: For PLUS & Platinum models - Get up to £500.00 of free accessories. Use this code MBHB500 at checkout.
Offer 3: A free full spare wheel can be added to your BASE model order. All other models have this within the spec.
Find details of where to enter your code on the image below.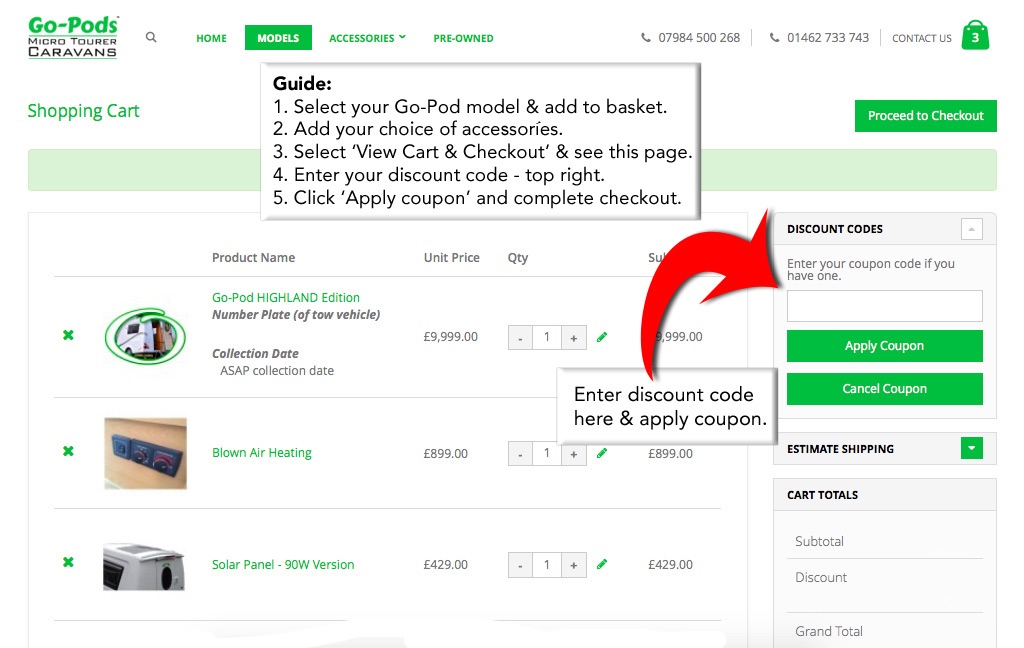 After clicking 'Apply Coupon' review your order's discount and hit the checkout button to proceed.
Deposits
You only need pay a deposit at this time, with the final balance not required until collection. Deposits are £1000.00 for all models. The cost of any accessories not covered by your discount code are also payable at time of ordering. Deposit amounts are displayed clearly on the order summary.

Checkout
At the checkout page complete the information requested. Please enter your full postcode with a space in the middle, for the delivery calculator to work. Select your payment option and you'll have one final opportunity to review your order before clicking the 'Place Order Now' button. From there, please follow the instructions displayed.
To go to the shop now, please use the green button above.
<<< Subscribe to our newsletter here!
NB: Look out for the opt-in email.
Got a moment?
Please complete the short feedback form below.
If you can spare the time, we'd appreciate your feedback, comments & suggestions about how our system worked for you. Forms are confidential and not shared with the Owners. Thank you.