Import your own Go-Pod to Australia
Interested in importing a Go-Pod to Australia?
We don't have Go-Pod dealerships in Australia but we do supply individual customers. Heres the details you need to know:
We've worked with an experienced firm of caravan exporters to determine the best specs to suit Australian regulations and here's an overview of approximated costs & considerations.
Choosing your Go-Pod model.
Please click here to visit our shop and review the different models. Once decided, please add it to the basket & continue to customise your Go-Pod.
Good news! We don't have to charge UK sales tax, (VAT), so your purchase will be 20% less than the advertised rates, helping to offset your importation costs.
Tip: You'll need a front box fitted and plumbed for gas, as Aus regulations don't allow internal gas lockers. The Platinum & PLUS models have front boxes included but for Standard & model doesn't so please ensure you add it.
Prices shown online are £GBP and inclusive of UK sales tax - but we'll adjust the total manually to remove the sales tax before you pay. No payment is taken via the website, so you'll be able to send a bank transfer after you've agreed the figures.
Shipping
Go-Pod prices are ex-works PR8 5LF, UK and do not include delivery to the port of exit. Please allow £250.00 GBP for delivery to the port of Hull, UK. Once delivered, your Go-Pod will be handed over to the shipping agents who will assume responsibility on your behalf. Your Go-Pod will then be securley loaded and strapped in to a 20' shipping container.
Shipping cost guide - correct as of March 2019 - NB: prices may vary and the shipping company will advise at the time.
• £2300 GBP to: Sydney, Freemantle, Adelaide, Melbourne ports.
• £2525 GBP to: Brisbane port.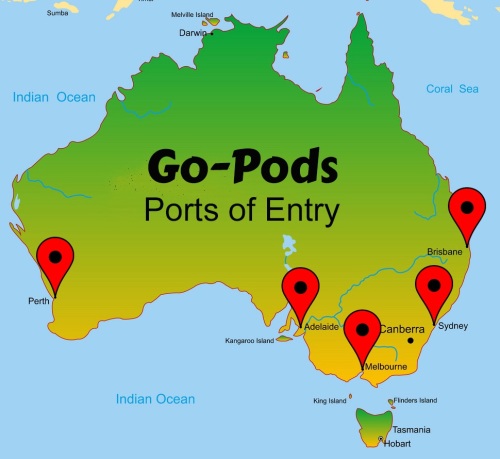 Our recommended shippers are:
UK Customs Solutions Ltd - www.ukcustomssolutions.co.uk and their Australian colleagues.
Contact: Mr Ryan Little.
E: [email protected] T: 00 44 1394 334880
Additional costs at port of entry:
Local Charges: Port Charges, Unpack, Clearance & Inspection: AUD$ 2520.00

Steam Cleaning & Vacuum: $AUD 130.00 per hour at customs discretion.

Quarantine fees: $AUD 240.00 - at customs discretion & depending on number of inspections.

Storage at $AUD 35.00/day.
Notes: Inspections & cleaning are at the Australian Customs discretion and may not be required. If required, a further quarantine inspection is needed afterwards. After clearing quarantine, there is a two day free storage period to collect within, before storage fees are applied. Prices shown are intended as a guide - please check with the shipping company.
Import Permit: Required in advance - apply online - cost $AUD 50.00.
Government Charges: Duty is applied at 5% of the FOB value.
GST Sales Tax: Applied at 10% of the (CIF + Duty) - The total cost of the caravan, shipping & insurance
Customs Entry Fee: $AUD 194.00.
Compliance to Australian trailer regulations:
Please note: It is the customer's responsibility to ensure their purchase complies with Australian Regulations. The information provided here is intended as a guide and although it is correct to the best of our knowledge, we do not accept responsibility for any errors. Your shipping agents will help guide you further.
The tow electrics are already compatible with UK standard spec.

The Sargent Power Management System is compatible with Australian electrics.

Internal mains sockets will be changed to Aus style sockets by us but may require testing & certification once in Australia.

Any electrical devices will need to be compliance tested.

All gas piping on the Go-Pod is rigid copper pipe.

Any gas appliances need to be checked & certified as compliant locally by a registered gas fitter.

The gas regulator & rubber tubing to the gas bottle will be omitted as this is better fitted locally. A spur will be in place to plumb to.
Option: Some customers prefer us to remove all gas appliances and associated plumbing to avoid the local costs of gas certification. We can also remove the mains electric systems and fridge, leaving the Go-Pod powered solely by 12V which will not require or incurr any testing costs. The 12V system will power all the lights, the water system and the TV. This option offers a larger kitchen worktop area and a space for a coolbox. There would be no requirement to fit a front box with this configuration either, representing an additional saving.
Tip: We also recommend adding the following items if not in your chosen model's package: