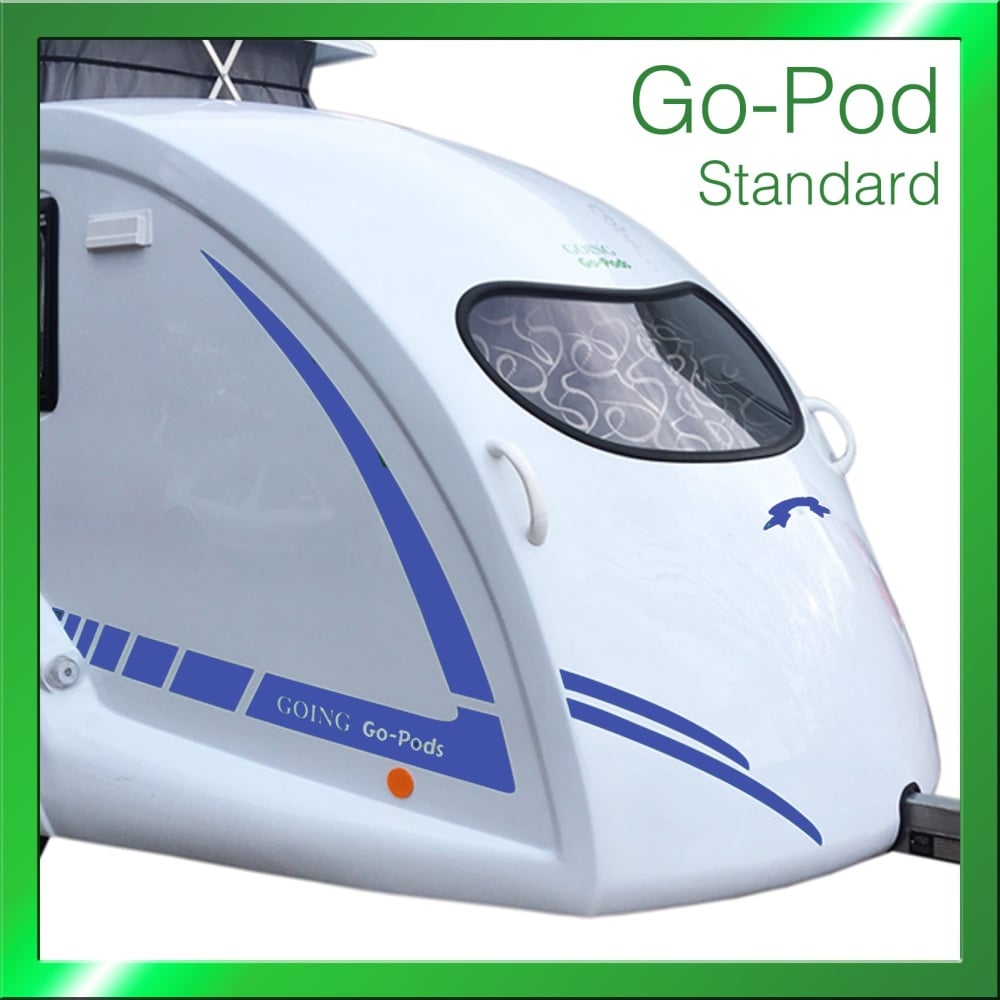 1. 2021 Standard Go-Pod - £10,995.00 - Deposit £1000 - Balance on collection.

How To Order • Add to basket • Select Continue Shopping • Visit Add-ons section to customise! (Add-ons are payable with deposit)

£1000.00
Price freeze offer - click here for details.
Still setting the benchmark - our Standard model Go-Pod continues to evolve for 2020 and retains true micro tourer advantages.
Go-Pods offer a perfect blend between camping & caravanning and being micro tourers, they're easier to handle & move around than even the smaller conventional caravans.
Go-Pods can be towed by most of today's small engined super-minis. Even those with towing capacities as low as 750Kg can be legally used. While their 750Kg MTPML means that they fall within the driving licence allowances for new drivers too.
Easy to tow, (even for first timers without any former experience), and designed to be completely anti-snake, anti-wobble on the road.
With a one-piece GRP shell, (made in one complete piece just like a boat - but upside down), they have no seams to leak and require minimal maintenance. Easy to set up and easy to store - the Go-Pod really is all about convenience.
Inside offers a cooker, fridge, sink and even a toilet, while the seating area quickly converts in to a comfortable, 10cm / 4" memory foam, king size bed.
Insulated for all year use and with a wide range of accessories, you can tailor your Go-Pod to suit your own way of camping.
Great concept, great quality, great value and superb fun!
Scroll down to the Description section for what's included in the price then add your own choice of accessories or packages to tune the spec to your own particular way of camping.
Other Stuff!
Deposit: A non-refundable deposit secures your order.
Small Cars: Cars rated as low as 750Kg can tow this model.
Don't forget the insurance: Most owners recommend Caravan Guard for insurance as they specialise in Go-Pods, have a good pay out record and offer one month of free insurance. They'll call to offer a comparitive, no obligation quote & activate the offer if required. An opt out is possible and cover is subject to underwriting, terms & conditions.
Interior fabric - Beige ref: LISO 14.
Other fabric colours available at a supplement. Please refer to Add-Ons section.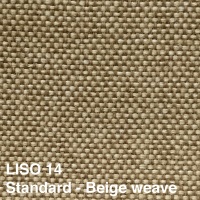 Decal colour options - included in the price. Please state your selection above.

Description:
Weights: MiRO 540Kg. MTPLM 750Kg. Remaining capacity for accessories & loading approx 210Kg.†
Calculations do not include any water allowance for the toilet.
The following features are included:
Outside:
Moulded GRP Shell eliminates the risk of seam leaks.

Lightweight design so most small cars can tow.

Easier to manoeuvre that a regular caravan when unhitched.

AL-KO braking system.

AL-KO running gear and hitch.

Galvanised steel chassis rated to 1000Kg.

Stylish appearance.

R13 tyres.

Full spec spare wheel.

Fully undersealed.

Two rear wind down stabiliser legs.

Adjustable opening side windows.

Secure window locks.

Stainless steel door hinges.

Mains hook up 240V in socket.

LED porch light.

Truma water pump socket.

TV aerial socket.

Porthole style door window.

Choice of blade decal colours.

High level rear brake light.

Rear LED brake & indicator lights.

Euro

13 pin tow electrics.

Wall cavity insulation.

Anti-snaking, wobble-free design.
Inside:
Twin gas hob with heat resistant glass top.

Sealed gas compartment located under the sink.

Stainless steel sink.

Electric tap and Truma pump.

Solid plywood furniture - no chipboard.

Push button safety catches on all cupboards.

Wardrobe with shelves.

Flush toilet - porta-potti style

Chest style fridge / freezer by Dometic.

Wrap around seating.

Removable table - 620mm x 500mm.

Carpet runner.

Wood effect, low maintenance flooring.

A 12V leisure battery (L85 - 85Ah).

Full 12V circuit for lights, TV, tap & 12V power socket.

Memory foam king size bed or two singles.

Slatted bed system.

Concealed, under-shelf LED lighting.

Spotlight LEDs x 2.

Warm effect reading / spotlight LEDs x 2.

Pull down blind for door window.

Pop-top for extra headroom. (Headroom = 6' when up & 5'1" when down).

Zipped air vents in pop-top skirt, fitted with bug mesh x 2.

Generous under-seat storage areas.

Dressing mirror inside wardrobe door.

Kitchen cupboards & cutlery draw.

Fold out wing table.

Under fridge cupboard.

Dropdown acces

s to underbunk storage areas.

Control panel - wall mounted.

240V electric circuit and battery charger.

Three pin 240V plug sockets x 2.

12V (cigarette lighter style) socket by fridge.

TV aerial socket by fridge.

Roller blind style, window fly screens.

Roller type blackout blinds.

Modern, comfortable & practical upholstery.

Matching curtains.

Leg winder handle.

Water container.
Other accessories can be added to your Standard Go-Pod. Please check our Add-ons sections for details.
Dimensions: 2020 Models.
External Dimensions:
| | | |
| --- | --- | --- |
| Length | - | 4.20m including 0.99m hitch & bar. |
| Width | - | 2.00m |
| Height | - | 2.05m roof down. Raising pop top adds 30cm. |
| * Garage storage | - | Allow 210cm where possible. |
| MiRO | - | 540Kg |
| Brakes | - | AL-KO Braking System. |
| MTPLM | - | 750Kg |
| Nose Weight | - | 49Kg |
| Ground Clearance | - | 183mm NB: Lowest point is the removable spare wheel. |
Internal Dimensions:
| | | |
| --- | --- | --- |
| Standing height | - | 1.84m |
| Floor - full length | - | 2.05m |
| Floor - width | - | 0.62m |
| Floor - bed end to door | - | 1.00m |
| Bed - length | - | 1.95m |
| Bed width - double | - | 1.57m |
| Bed width - single | - | 0.53m |
| Door - width | - | 0.60m |
| Door - height | - | 1.58m |
Please note that colour options viewed online may vary depending on your monitor's calibration & photography. Therefore the colour options shown are intended as a representation and a guide, rather than an exact colour match. Additionally, changing to darker colour side panels and GRP colours may affect the temperature inside of your Go-Pod on hot days.
Please be advised that chrome decals if selected may show some marks or blemishes due to it's nature.
Some items may vary from images due to availability.
The TV comes with its own integral stand. The TV is designed to be free-standing and can be positioned on the fridge top, table or in the awning. Wall mount brackets that may appear in some older images were discontinued in early 2016, when the TV manufacturers increased the screen size. This larger size TV made the fridge access quite difficult in conjunction with wall mounted brackets & the TV's own stand proved more versatile. Wall brackets are still available, (at £45.00 inc fitting), if required but in our opinion, they can prove less convenient.
† Measurements and weights shown are intended as a guide and may vary, be approximated or estimated where necessary.
Weights may change without notice and we recommend that you leave a suitable margin. If your car's towing allowance is low, remember that accessories ordered will add to the overall weight and you may wish to carry more of your load in the tow vehicle. MiRO figures are offered as a guide only and we recommend that your work to the maximum MTPLM.
Ensuring correct towing specs is the responsibility of the customer.
Always refer to the online Owners Manual for correct operating procedures.
| | | |
| --- | --- | --- |
| Viewings | - | By appointment only - Click here. |
| Collection | - | Lancashire - PR8 5LF. Delivery option available. |
REVIEWS:

Freedom and comfort review by Elaine.
As we only want one vehicle to maintain on the road a camper van wasn't an option for us and we never wanted the hassle of towing a bulky caravan. Having owned the Pod now for 7 months we know we have made a great choice. It's light and easy to tow (you forget it's there!) and you have the freedom to leave it at home or on site . It really does have a 'tardis' effect of being small on the outside but has everything you need inside and is really cosy. We've kitted it out to be our perfect little home away from home. We've had a few adventures this year and have many more planned for 2019.

Love Our Pod. review by MikeBeach
Love
our Pod "The Beach Hut", love the comfort, love the ease of towing and setting up on site. We spent six weeks in the summer (including Gracie the Border Collie), touring down through Europe as far as Lake Garda and back again and never once wished we were back home, in fact if we hadn't booked the ferry, we could have quite easily have stopped longer.
Love it and would highly recommend.