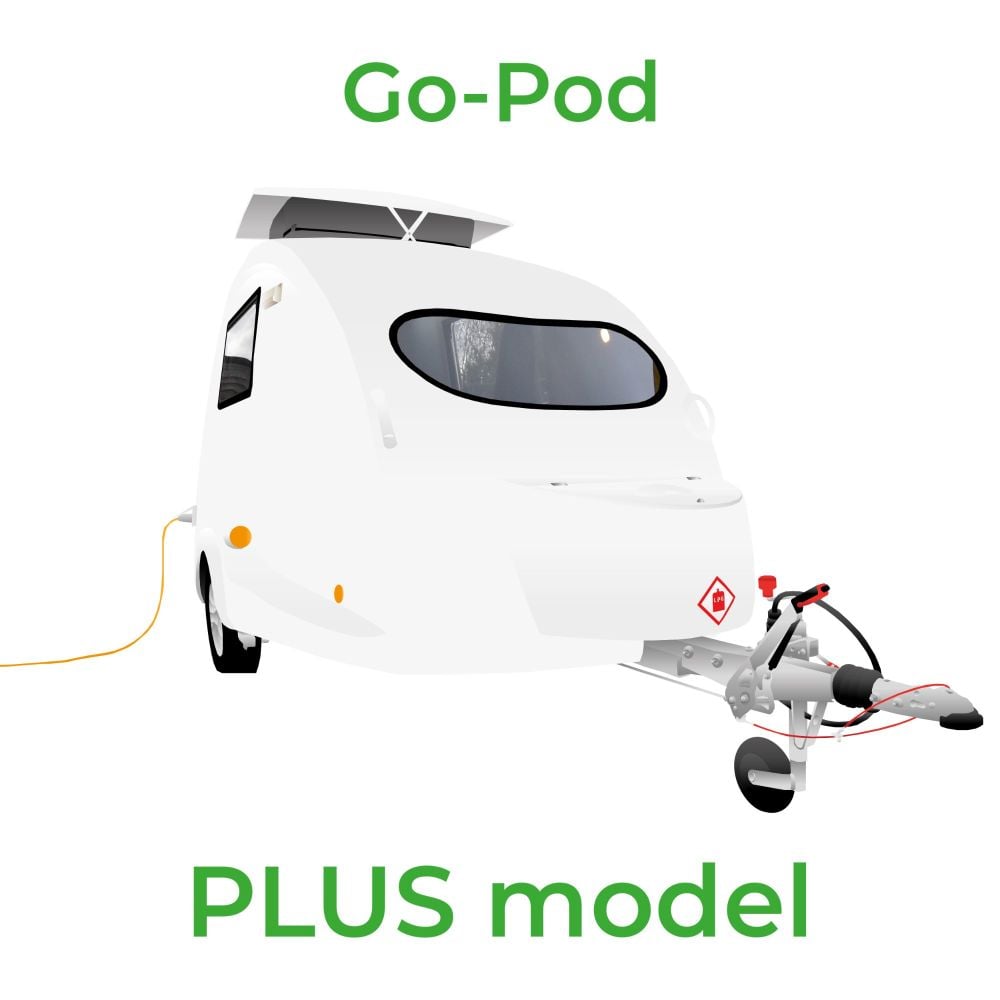 1. Go-Pod PLUS - £15,995.00 - Deposit £2000 with balance on collection.

1. Go-Pod PLUS - £15,995.00 - Deposit £2000 with balance on collection.

1. Go-Pod PLUS - £15,995.00 - Deposit £2000 with balance on collection.

1. Go-Pod PLUS - £15,995.00 - Deposit £2000 with balance on collection.

1. Go-Pod PLUS - £14,995.00 - Deposit £2000 with balance on collection.

1. Go-Pod PLUS - £14,995.00 - Deposit £2000 with balance on collection.
1. Go-Pod PLUS - £15,995.00 - Deposit £2000 with balance on collection.

From

£2,000.00
The 2022 Go-Pod PLUS model offers an accessible, entry-level package with all of the benefits of a micro tourer caravan.
With more storage than ever before, the 2022 PLUS builds on a strong foundation to offer the best value micro caravan on the market.
Included on top of the standard features:
100w solar panel

12v compressor fridge upgrade - Dometic CRE50

Sink/hob upgrade.

Front box / gas storage locker.

Choice of furniture colour.
Important Stuff:
Deposit: A non-refundable deposit secures your order.
Small Cars: Cars rated as low as 750Kg can tow this model.
Interior fabric - Grey ref: LISO 7.
Other fabric colours available at a supplement. Please refer to Add-Ons section.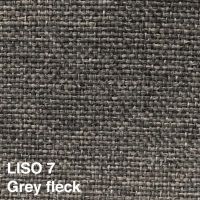 Outside:
Moulded one-piece GRP Shell eliminates the risk of seam leaks.

Front box / external gas locker.

Lightweight design so most small cars can tow.

Easier to manoeuvre than a regular caravan when unhitched.

AL-KO braking system.

AL-KO running gear and hitch.

Galvanised steel chassis rated to 1000Kg.

Stylish appearance.

R13 tyres.

Full spec spare wheel.

Fully undersealed.

Two rear stabiliser legs for quicker set up.

Adjustable opening side windows.

Secure window locks.

Steel door hinges.

Mains hook up 240V in socket.

LED porch light.

Truma water pump socket.

TV aerial socket.

Porthole style door window.

Choice of stripe colours.

High level rear brake light.

Rear LED brake & indicator lights.

Euro

13 pin tow electrics.

Wall cavity insulation.

Anti-snaking, wobble-free design.

100w solar panel mounted to pop-top roof.
Inside:
12v compressor fridge - runs on 240v or leisure battery - Dometic CRE50.

Larger stainless steel sink with integrated twin hob & glass worktops.

Electric tap and Truma pump.

Solid plywood furniture - no chipboard.

Safety catches on all cupboards.

Wardrobe with shelves for maximum usable space.

Flush toilet - porta-potti style

Wrap around seating.

Removable table - 620mm x 500mm.

Carpet runner.

Wood effect, low maintenance flooring.

A 12V leisure battery (85Ah).

Full 12V circuit for lights, tap & 12V power socket.

Memory foam king size bed or two singles.

Slatted bed system.

Concealed, under-shelf LED lighting.

Spotlight LEDs x 2.

Warm effect reading / spotlight LEDs x 2.

Pull down blind for door window.

Pop-top for extra headroom. (Headroom = 6' when up & 5'1" when down).

Zipped air vents in pop-top skirt, fitted with bug mesh x 2.

Generous under-seat storage areas.

Dressing mirror inside wardrobe door.

Kitchen cupboards & cutlery draw.

Fold out wing table.

Pull-out storage / pantry rack next to fridge.

Dropdown acces

s to underbunk storage areas.

Control panel - wall mounted.

240V electric circuit and battery charger.

Three pin 240V plug sockets x 2.

12V (cigarette lighter style) socket by fridge.

TV aerial socket by fridge.

Roller blind style, window fly screens.

Roller type blackout blinds.

Modern, comfortable & practical upholstery.

Matching curtains.

Leg winder handle.

Water container.
Other accessories can be added to your Go-Pod PLUS. Please check our Add-ons section for details.
Don't forget the insurance! You are entitled to FREE 14 DAY TOW-AWAY INSURANCE COVER or a special introductory insurance discount from the specialist Go-Pod insurers CaravanGuard. Please remember to select the option at checkout or you won't be contacted.
Dimensions: 2022 Models.
External Dimensions:
| | | |
| --- | --- | --- |
| Length | - | 4.20m including 0.99m hitch & bar. |
| Width | - | 2.00m |
| Height | - | 2.05m roof down. Raising pop top adds 30cm. |
| * Garage storage | - | Allow clearance - 210cm where possible. |
| MiRO | - | 540Kg |
| Brakes | - | AL-KO Braking System. |
| MTPLM | - | 750Kg |
| Nose Weight | - | 49Kg |
| Ground Clearance | - | 183mm NB: Lowest point is the removable spare wheel. |
Internal Dimensions:
| | | |
| --- | --- | --- |
| Standing height | - | 1.84m |
| Floor - full length | - | 2.05m |
| Floor - width | - | 0.62m |
| Floor - bed end to door | - | 1.00m |
| Bed - length | - | 1.95m |
| Bed width - double | - | 1.57m |
| Bed width - single | - | 0.53m |
| Door - width | - | 0.60m |
| Door - height | - | 1.58m |
Please note that colour options viewed online may vary depending on your monitor's calibration & photography conditions. Therefore the colour options shown are intended as a representation and a guide, rather than an exact colour match. Additionally, changing to darker colour side panels and GRP colours may affect the temperature inside of your Go-Pod on hot days.
Please be advised that metallic or shiney decal material choices, (such as chrome), may show some marks, bubbles or blemishes due to it's nature.
Some items may vary from images due to availability.
Content of the package may not be swapped for alternative items nor exchanged for the equivilent monetary value.
† Measurements and weights shown are intended as a guide and may vary, be approximated or estimated where necessary.
Weights may change without notice and we recommend that you leave a suitable margin. If your car's towing allowance is low, remember that accessories ordered will add to the overall weight and you may wish to carry more of your load in the tow vehicle. Actual Mass specs are offered as a guide only and we recommend that your work to the maximum MTPLM.
Red Lion Caravans Ltd., reserve the right to amend the Go-Pods design, components & features without prior notice, as required.
Ensuring correct towing compliance is the responsibility of the customer.
Delivery times: Production times can increase / decrease with the effect of various factors on manufacturing. Delivery times provided are therefore estimates only and are not guaranteed dates.
Important: Please review the Terms & Conditions / Refund Policy After the statutory 14 day cooling off period, the deposit amount is non-refundable.
Always refer to the online Owners Manual for correct operating procedures.
| | | |
| --- | --- | --- |
| Viewings | - | By appointment only - Click here. |
| Collection | - | Lancashire - PR8 5LF. Delivery option available. |
REVIEWS:

BETTER THAN THE ERIBA!
review by Hugh Falconer
After owning my Go Pod for six months I would like to share my experience.
I have previously owned two Eriba models the 120gt and latterly a 320gt bought from new in 2012, and sold before buying the Go Pod in March 2017. Both Eriba models were good, but for my personal use the Go Pod is a more comfortable and usable option.
If we consider tow-ability, the Go Pod, is a dream compared to both the Eriba models, specially the 320gt, which is actually quite a heavy caravan for the space offered, for example towing the Go Pod I see no difference in my MPG, whereas with the Eriba 320gt it dropped by about 12%. The biggest difference is the stability when towing, even in windy conditions the Go Pod is rock solid. Also because the bed in the 320gt, is sideways it is just that bit wider and with most cars would require mirror extensions, whereas the Go Pod in my case does not require anything other than the normal mirrors.
Internal layouts next, the bed in the 320gt is comfortable, but making it up at night is a bit of a pest, specially stowing the rather large table, which can really only be stacked against the door this cuts down the usable space to no more than offered in the Go Pod. The bed make up on the Go Pod is so simple with the built in slats, it is comfortable and deceptively large.
The table in the Eriba is large and if you are planning a meal for four that would be fine, in my opinion it is a bit too bulky. The Go Pod offers a choice of table size my personal preference is for the smaller one, but both are very functional.
Seating, both the Eriba and the Go Pod have restricted depth on the seats, but with the new thinner backrests on the Go Pod this has been addressed. The big benefit is that in the Go Pod you can stretch out full length on the seat, which is impossible in the Eriba, this makes the Go Pod a clear winner for taking a break on a long journey.
The Eriba 320gt, does have a toilet which is nice but in reality it is very cramped and do you really need two sinks in a small tourer? In reality the toilet as I see it is for emergencies and the Fiamma unit in the Go Pod is perfectly adequate.
The cookers in both are very usable so not much to say there, but the top loader fridge in the Go Pod is the outright winner, I was sceptical when I first used it, but from a practical perspective it is fantastic, in both in capacity and function. I can pack all my provisions in it before leaving and they arrive as the departed, I never packed provisions the fridge in the Eriba when I was traveling as everything would rattle about so I had to use a cool box in the car when traveling.
Heating in the Eriba is restricted to gas or a stand alone supplementary heater, with the Go Pod Plus the Whale dual gas or electric heater has proved to be excellent, and quiet on the low setting so that it is almost inaudible through the night. The Go Pod definitely feels much more comfortable and warmer than either of the Eriba models.
Storage was a pleasant surprise, I had feared that the Go Pod may be lacking compared to the 320gt, but to my amazement, everything I had in the Eriba fitted in the Go Pod with space to spare, the under seat storage is much easier to access, and I still have unused space.
The LED lighting and fittings on the Go Pod is far superior to the Eriba, and give a wider selection of settings, both have two 13amp sockets. The built in TV arial amplifier and solar panel on the Go Pod are not available on the Eriba, the latter gives the Go Pod usable off-grid capability.
Overall for what I want from a small caravan, the Go Pod Plus has ticked every box.

Everything we wanted... and more!
review by Jonathan Chapman
We picked up our Pod in March 2017 and went for the PLUS model. This comes with a Khyam awning, solar panel, TV & aerial and blown air heating. I can't comment on the heating as we haven't used it yet, but I will say that due to the Pod being insulated, even in April we did not need to have it on at night. I can see that two other owners have endorsed its capabilities though. The solar panel is great and charges the leisure battery - however I've not camped "off grid" yet so can't comment on it's life. The TV is great - it even comes with Freeview HD :-)

We decided to wait for the new awning rather than take the existing one. I thought it was a nice touch from Red Lion to offer us the option of waiting. We had two trips without an awning...and it is do-able if you pack light. We had a 4 night and a 5 night trip without it. However, we now have the awning...and what a difference it makes! It more than doubles the space. We just make the bed up for the whole trip and live in the awning. You do also get a "sun tarp" with the Pod and we did use this for our first trip, not having the awning. It's a light alternative, although you don't get the privacy that you do with an awning.

The bed is unbelievably comfy...I am around 6'1" and sleep soundly. It's memory foam, although we bought another topper to make it even comfier. No more waking up "stiff as a board" as we used to in our trailer tent! The bed has a new slatted base system for 2017 which the Go Pod people used as an idea from a customer. I think it's great that they work with owners to look at improvements like this.

Everything in the Pod is superbly designed...people have commented that it's "like a Tardis" inside. There's cupboard space, under seat space, little shelves to keep things like chargers, phones, TV remotes and hairbrushes on.

For cooking, there's a two burner gas hob, which is superb. You can even substitute a cupboard and have an oven, although we didn't feel we would use it. Or you can have a microwave oven installed (again, we wouldn't use it).

There are a couple of electric sockets which are useful and the lighting is all LED, so it's low wattage (important if you're off grid!), efficient and very bright! The porch light is brilliant when you need to get up in the night (if you know what I mean), but remember to switch it off when you get back, so you don't annoy your pitch neighbours.

There's also a sink and water pump (although we haven't used it, so can't comment) and you get a portable toilet included, should you not want to venture out!

For keeping your chilled stuff chilled, there's also a coolbox-style fridge. A good tip is to plug it in at home overnight, then it'll stay chilled whilst you're on the move. It works from hook-up of course so you're good for the duration of your trip if you're on hook-up.

So what's it like to tow? Well we have a 2 litre diesel and you can hardly tell it's there. Check your towing weights, of course, but any reasonable size car will have no problems. I'm an inexperienced tower and I've driven from Lincolnshire to Cornwall and back with no hassle at all.

For my wife and I, it is a big investment and it's going to take us five years to pay for it, but it's one of the best things we've ever bought. It's the biggest new item we've ever bought in our married life, so we wanted it to be perfect. And it's been pretty much that way - everything has worked!

We have at least two more trips planned this year and it means we can have more holidays...what's not to like, as they say?! If you're thinking of buying a small caravan, you should definitely be thinking about a Pod. We went to view an owner's pod as it was a lot nearer than going to Southport and that made our minds up for us - we went straight home and applied for the loan to pay for it!!

Ideal for our needs.
review by KevinH
We picked up our Go-Pod Plus in early December 2016 and we've been delighted with it so far. We had ideas of converting our LWB Renault Trafic van, but doing so would mean that I'd lose to use of my van for work purposes and that I'd be tied to that particular van for foreseeable future. For comparable money, I was able to purchase a Go-Pod. We've had campervans before and we like the idea of being able to set up in a spot and then driving away without having to put away the dishes etc.
We decided on the Plus version, as it included a heating system, a solar panel, and the annex tent. It also included a TV, which didn't really bother us, but there you go. The heating came in very handy the first night we had it... waiting overnight for the ferry in Liverpool, so I can attest to its capabilities. The solar panel is great, as having had campers before, batteries tend to take a little minding and I've had to replace batteries in the past because I didn't keep them on trickle charge, etc. The Khyam annex is easy to erect and from out view point an essential addition.
We'd like to be using the Go-Pod more often, but that's just down to a busy life. The Go-Pod trails very well behind our van and manoeuvring the Go-Pod is not hard, because if you get in a bind, it's easy to unhitch it and adjust it by hand.
In summary, it suits us, is comparable to the room we would have had if we converted our van, and we have the freedom to change the towing vehicle without having to have a 'big' car/van in the future.
I'd recommend the following accessories: Security pack, so you can park up and leave the Go-Pod with confidence and the Tripod stand for the table, so you can take the table outside (on my wish list, for now).