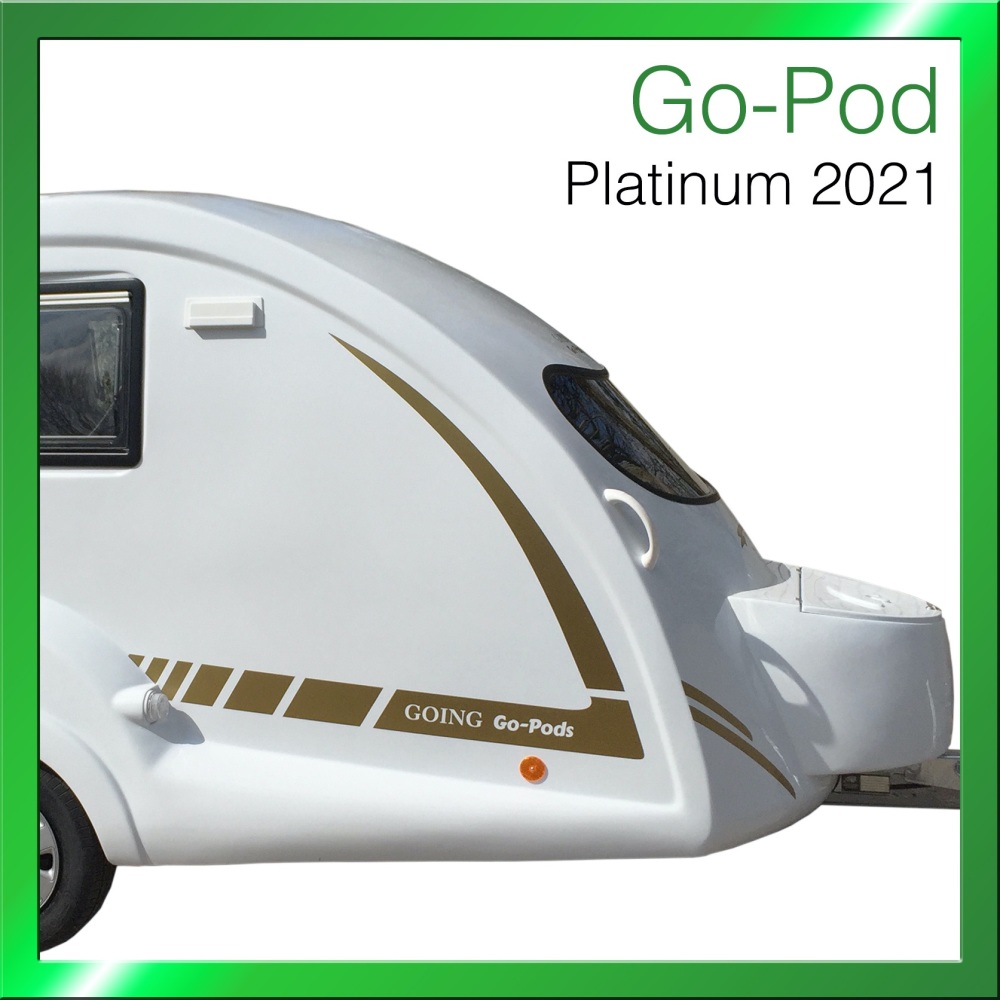 3. 2021 Go-Pod Platinum - £16,295.00 - Deposit £1000 - Balance on collection.

How To Order • Add to basket • Select Continue Shopping • Visit Add-ons section to customise! (Add-ons are payable with deposit)

£1000.00
Delivery times: As a guide 12-14 weeks is currently our most realistic delivery estimate. All Go-Pods are made to order & at this time, due to the global affect of Covid on supply chains, delivery times can only be estimated and may be subject to change.
You can also choose to buy now for delivery next year - you'll get the latest 2022 spec & enjoy a price freeze of today's RRP!
Our flagship Platinum Go-Pod is our most popular model & includes just about every comfort available!
You'll want for little as the Platinum Package takes 'glamping' to a whole new level.
You'll get this on top of the Standard Model's spec;
Full airbeam awning - for instant extra living space. (Styles may vary).

Skirt & rail.

Blown air heating - thermostat controlled

dual fuel heating

for all year comfort.

The

100W solar

panel - provides independence off hook up.

TV & DVD player

- entertainment on the go with this 12V digital flat screen TV.

Larger square sink with integrated hob & glass tops.

External 240V 3 pin mains out socket.

USB upgrade.

Microwave oven. (Can be upgraded to a

full gas oven and grill).

Mains hook up cable, winder & adaptor.

Front box

plumbed for gas.

Fabric upgrade - (optional).

Security bundle.
The option of changing your fabric colours is included, so you can personalise the Go-Pods interior to your own particular taste. Please make your selection above.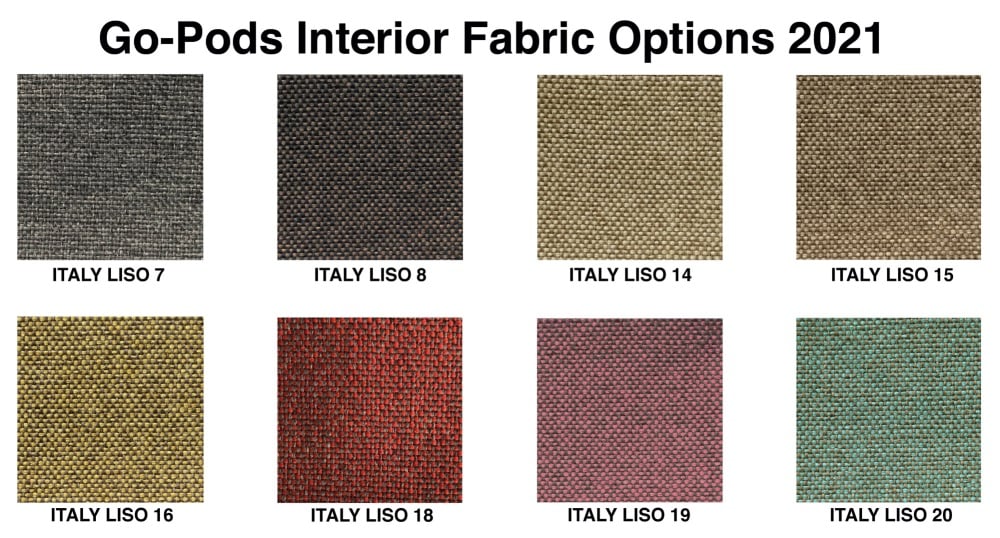 And why not upgrade the exterior with a full-colour GRP shell or bespoke side panels for that totally unique look. See the Add-ons section for details.
Other Stuff!
Deposit: A non-refundable deposit secures your order.
Small Cars: Cars rated as low as 750Kg can tow this model.
Decal colour options - included in the price. Please state your selection above.

Description:
Weights: MiRO 540Kg. MTPLM 750Kg. Remaining capacity for accessories & loading approx 210Kg.†
Calculations do not include any water allowance for the toilet.
The Platinum Package weighs approx 107Kg meaning the remaining user payload would be approx 106Kg.†
To further maximise your user payload, carry heavier items like the awning, EHU cable & the security devices in your car. For example, carrying the awning in your car reduces the package weight by around 18Kg.
The following standard features are also included:
Outside:
Moulded GRP Shell eliminates the risk of seam leaks.

Lightweight design so most small cars can tow.

Easier to manoeuvre than a regular caravan when unhitched.

AL-KO braking system.

AL-KO running gear and hitch.

Galvanised steel chassis rated to 1000Kg.

Stylish appearance.

R13 tyres.

Full spec spare wheel.

Fully undersealed.

Two rear stabiliser legs for quicker set up.

Adjustable opening side windows.

Secure window locks.

Steel door hinges.

Mains hook up 240V in socket.

LED porch light.

Truma water pump socket.

TV aerial socket.

Porthole style door window.

Choice of stripe colours.

High level rear brake light.

Rear LED brake & indicator lights.

Euro

13 pin tow electrics.

Wall cavity insulation.

Anti-snaking, wobble-free design.
Inside:
Larger stainless steel sink with integrated twin hob & glass worktops.

Electric tap and Truma pump.

Solid plywood furniture - no chipboard.

Push button safety catches on all cupboards.

Wardrobe with shelves for maximum usable space.

Flush toilet - porta-potti style

Chest style fridge / freezer by Dometic. 240V.

Wrap around seating.

Removable table - 620mm x 500mm.

Carpet runner.

Wood effect, low maintenance flooring.

A 12V leisure battery (L85 - 85Ah).

Full 12V circuit for lights, TV, tap & 12V power socket.

Memory foam king size bed or two singles.

Slatted bed system.

Concealed, under-shelf LED lighting.

Spotlight LEDs x 2.

Warm effect reading / spotlight LEDs x 2.

Pull down blind for door window.

Pop-top for extra headroom. (Headroom = 6' when up & 5'1" when down).

Zipped air vents in pop-top skirt, fitted with bug mesh x 2.

Generous under-seat storage areas.

Dressing mirror inside wardrobe door.

Kitchen cupboards & cutlery draw.

Fold out wing table.

Under-hob gas bottle storage.

Under fridge cupboard.

Dropdown acces

s to underbunk storage areas.

Control panel - wall mounted.

240V electric circuit and battery charger.

Three pin 240V power sockets x 2.

12V (cigarette lighter style) socket by fridge.

TV aerial socket by fridge.

Roller blind style, window fly screens.

Roller type blackout blinds.

Modern, comfortable & practical upholstery.

Matching curtains.

Leg winder handle.

Water container.
Other accessories can also be added to your Platinum Go-Pod. Please check our Add-ons section for details.
If extras are added, you may wish to discuss upgrading your Go-Pod to a 1000Kg MTPLM. This will provide an additional 250Kg of user payload & is called a 'Plate Upgrade'. If upgrading, please check your tow vehicle has at least a 1000Kg capacity.
Don't forget the insurance! You are entitled to FREE 14 DAY TOW-AWAY INSURANCE COVER or a special introductory insurance discount from the specialist Go-Pod insurers CaravanGuard. Please remember to select the option at checkout or you won't be contacted.
Dimensions: 2021 Models.
External Dimensions:
| | | |
| --- | --- | --- |
| Length | - | 4.20m including 0.99m hitch & bar. |
| Width | - | 2.00m |
| Height | - | 2.05m roof down. Raising pop top adds 30cm. |
| * Garage storage | - | Allow clearance - 210cm where possible. |
| MiRO | - | 540Kg (not including Platinum Package at 131Kg) |
| Brakes | - | AL-KO Braking System. |
| MTPLM | - | 750Kg |
| Nose Weight | - | 49Kg (54Kg with front box & gas bottle plumbed) |
| Ground Clearance. | - | 183mm NB: Lowest point is the removable spare wheel. |
| | | |
Internal Dimensions:
| | | |
| --- | --- | --- |
| Standing height | - | 1.84m |
| Floor - full length | - | 2.05m |
| Floor - width | - | 0.62m |
| Floor - bed to door | - | 1.00m |
| Bed - length | - | 1.95m |
| Bed width - double | - | 1.57m |
| Bed width - single | - | 0.53m |
| Door - width | - | 0.60m |
| Door - height | - | 1.58m |
Please note that colour options viewed online may vary depending on your monitor's calibration & photography conditions. Therefore the colour options shown are intended as a representation and a guide, rather than an exact colour match. Additionally, changing to darker colour side panels and GRP colours may affect the temperature inside of your Go-Pod on hot days.
The make and style of full awning included may vary to the images shown, which are for display purposes only.
Please be advised that metallic or shiney decal material choices, (such as chrome), may show some marks, bubbles or blemishes due to it's nature.
Some items may vary from images due to availability.
Contents of the package may not be swapped for alternative items nor exchanged for the equivilent monetary value.
† Measurements and weights shown are intended as a guide and may vary, be approximated or estimated where necessary.
Weights may change without notice and we recommend that you leave a suitable margin. If your car's towing allowance is low, remember that accessories ordered will add to the overall weight and you may wish to carry more of your load in the tow vehicle. Actual Mass specs are offered as a guide only and we recommend that your work to the maximum MTPLM.
Ensuring correct towing compliance is the responsibility of the customer.
Red Lion Caravans Ltd., reserve the right to amend the Go-Pods design, components & features without prior notice, as required.
Delivery times: Production times can increase / decrease with the affect of various factors on manufacture. Delivery times provided are therefore estimates only and are not guaranteed dates.
Important: Please review the Terms & Conditions / Refund Policy After the statutory 14 day cooling off period, the deposit of £1000.00 is non-refundable.
Always refer to the online Owners Manual for correct operating procedures.
| | | |
| --- | --- | --- |
| Viewings | - | By appointment only - Click here. |
| Collection | - | Lancashire - PR8 5LF. Delivery option available. |
REVIEWS:

Beautiful Pod with everything you could need
review by Mr & Mrs CP
We bought our Platinum Pod in October 2017. I started off by making a list of everything we needed and then realised that the only Go-Pod that had everything we needed was the Platinum Pod. I worked out a total for the items separately (because Mr CP is from Yorkshire and is a bit tight with his money) and it was worth getting the Platinum for us rather than the Plus and additional accessories as you do save some money if you buy this pack.

We never wanted a caravan ever so a Pod is perfect for us. As lifelong campers, it's not camping but it's not caravanning either. It's inbetweeny and, for someone like me who likes to do things a bit differently, the Pod is perfect. Lots of other people seem to think so too as we get tonnes of Pod admirers wherever we go. Everyone loves it and it works as a fabulous ice breaker on sites with your immediate neighbours and others who might be right on the other side of the site but are intrigued by the cute appearance of the Go-Pod. When people have a look inside (because they all want to) they are amazed at what has been fitted into the Pod and all love the layout. We have had so many comments from people with two berth caravans who have said they wish they had seen a Pod first and from people with absolutely massive twin axle caravans who feel stressed about going down smaller lanes to get to those idyllic caravan parks in the best rural places. If your car can get there, the Pod can too.

We had thought of getting a camper van but, with the extra servicing costs, insurance, tax, MOT etc, it wouldn't have proved very cost effective. Also, the initial outlay would be significantly more than the cost of the Pod. We had also thought of getting a trailer for our tent but only got as far as looking for a towbar and Mr CP found the Go-Pod website and we knew straight away that we needed a Pod. We arranged a viewing with Jon at Go Pods HQ at Southport and he answered all the questions we had and let us tinker around with the Pod to make sure it was for us. There was no hard sell whatsoever which is very unusual these days. My main concern was whether the Pod would be too small for me. I have only once suffered with claustrophobia and that was when I was in an Eriba Puck that I had gone into at the Caravan Show at the NEC. I was so relieved when I opened the back door of the Pod and looked in because I could see straight away that there would be no feelings of being closed in. With all questions answered and all worries allayed, we tried to do the sensible thing and go home and talk about such a big purchase but got home and couldn't help thinking we should have ordered whilst we were there. We ordered the very next day.

The Platinum Pod has everything you need whether you want to stay overnight, have a long weekend or have a fortnight away somewhere. The fridge is fabulous and quiet too so noise from it won't keep you awake. The blown air heating is fantastic and can be used on gas as well as electricity which is perfect for off you want to do some "off grid" camping. It is also quiet running which is important as Mr CP and I are very light sleepers. The two burner hob is perfect for a morning cuppa or to cook a decent breakfast or a full meal. The microwave is handy for those times when the weather means outside cooking is not possible (we love outdoor cooking). The sink, whilst small, is great for drinking water, hand washing, water for cooking and rinsing things out. The solar panel keeps the leisure battery topped up nicely. We are well into our second winter now and we have not had to take the battery out to charge it and, when we last checked at the weekend, it is showing fully charged so I am extremely happy with this. The front box provides that bit of extra space for your gas bottle meaning that your inside Pod cupboard is available for storage. We find that there is plenty of cupboard space for everything to be honest and none of our cupboards are overflowing at all. We could fit more stuff in all of them but have got everything arranged now so that things are easy to get to.

We used the tarp a lot this year which is an optional extra. This is a fabulous item and makes for a really quick setup for if you are just staying one or two nights and you don't want to put an awning up. It has been an absolute Godsend this year with the hot weather too providing some welcome shade at times. Everything we want to take in the Pod fits easily and the Pod is easy to tow and easy and quick to set up. The awning supplied with the Platinum Pod is the Khyam Tailgate Awning and it is lightweight and very quick and easy to set up giving you extra storage space for longer stays.

One of the biggest assets of the Pod, in my opinion, is that you can have it exactly how you want it. If you don't want it white, you don't have to have it white. There are a choice of colours for the GRP shell. If you want it white but want it a bit different, have some coloured side panels like we did or you could have some side panels with flowers on or grass or trees or whatever you want. I think the current upholstery colour is a very light beige but, if you don't want that, have it a different colour. Have the seats one colour and the curtains another colour if you want. Have something different. I like different so the Pod suits me. There are lots of additional accessories you can get for the Pod too to make it perfect for how you want to use it. We got the exterior gas socket, for example, as we cook outside a lot with our gas SAfire roaster. We also opted to get the Motor Mover as, whilst the Pod is lightweight, it is difficult to move anything on grass or deep gravel and this takes away any stress completely.

Due to a lack of holidays this year, we have ended up doing quite a few two night trips at weekends and it has been a pleasure to go somewhere not too far away but far away enough to feel like you are really getting out there. We have more holidays next year so the Pod will be used even more. Initially, hitching up and setting up were done with a little trepidation as we have no experience of doing any of this towing malarkey so it was a bit of a learning curve for us. You pick it all up very quickly though and we are at a point now where we know what we are doing and it is all just so easy that using the Pod is even more fun than it was at the start. Every time we use the Pod now we love it a bit more each time. We have managed to spend 30 nights in the Pod too which is really good considering we already had a two week holiday booked prior to getting the Pod and we only get 20 days holiday as it is.

Having the support of all the staff at Go Pods HQ has been brilliant. They are a great bunch of people and always happy to help. No question I have asked has been treated as a stupid question and all the help I have needed has been given to me. In particular, Jon has spent a lot of time explaining things to me and nothing has been too much trouble. When we went to collect our Pod, Jon patiently explained everything to us and made sure we were 100% okay before we left to spend the night at one of the caravan parks nearby.

The Go Pod is the best thing we have ever bought. If you are thinking of buying one, go and see one, you will be amazed at how well designed they are and how fabulous the layout is. They may be small but they are perfectly formed and, remember, small means easier tow, less impact on any fuel consumption (we have not noticed any extra fuel drain on our Ford Focus Ecoboost), it can be towed with some smaller cars, it is very quick and easy to clean inside and out and it is so quick to set up, you will arrive on site and be sat out having a drink before any bigger outfits have finished putting the legs down. It's all good.

My Favourite Possession! review by GEN JCB
This is my favourite possession since I sold my BMW top spec sports car. I go where I want wherever I want exactly when I want. I take with me everything I need and bring with me everything I want. It's my sports pod. It's named Munro in memory of Marilyn Munro. My mother adored her and I adored my mother. It's compact it has the essentials fitted and because I like high specification products I've added a lot of accessories because I'm a high maintenance person who loves nice things. My Go Pod Platinum 2017 Limited Edition is very striking not showy. Sophisticated and subtle with a high specification and energy efficient. It's a safe tow whatever the weather or season. Pod perfect every set up and I'm good to Go Pod. I use my Go Pod nearly every month throughout the year. In fact I'm using my Go Pod right now Sunday 09/12/2018.
Additionally as part of my Pod set up I have added the following specification to personalise my Go Pod:-
*Grey full exterior with silver Munro logo
*Grey matching front box with gas bottle
* Sky blue interior upgrade upholstery.
*TV/DVD package (Platinum choice)
* Kyham Awning (Platinum choice)
*Kyham Go Tarp (Platinum choice)
* Dual central heating
*Hot water tank system bespoke addition
*Additional electric sockets/USB port
*100W roof top Solar panel
* Silver Mixing Tap to match silver sink
*Red Lion excellent Customer Support and Services. My continued choice.

The small caravan with the big heart!
review by Derrick
We bought the top of the range Go Pod, it worked out cheaper than buying all the extras in the end, but there are a few extras I wish I had bought at the time
The motor mover, yes, I know a Go Pod is easy to move, but when it's on a slope, you have to ask the wife to give it that extra push, I wish I had one
The winter cover is very good, it does stop the Go Pod from getting that black stuff that winter always brings (plus it gives the stay cats somewhere to shelter)
I had used tear drop trailers in the past, they are very good for 2 people, but they have their limitations, like cooking, that is at the back and when it rains that's the end of the cooking, everything in a tear drop is hands and knees, you can't stand up in them, you watch TV laying down, there is a limit to what you can do in them
In a Go Pod you can stand up, cook in the rain, watch TV sitting down, pull the awning down for privacy and shelter from the elements (they have some really nice spot lights in them and you can reach them from the bed, you don't have to get out of bed to turn the lights out)
You could go the camper van route, but if you want to go anywhere, everything has to be put away; you might lose your pitch when you get back
A Go Pod has everything a normal caravan has, plenty of storage space, cupboards, a toilet/shower tent (we haven't used either) a double bed, a tent for extra guests (just clip it on the back)
When on a campsite, a pitch is the same price for all caravans; you have extra room on site
We upgraded the water container (and bought an extra one, never have enough water)
We have travelled to Turkey in ours, no problems, cruised along at 65-70 mph, no wobbling and you can even forget you are towing it, whenever we stopped people wanted to look inside (it should be called the TARDIS)
It's cheaper on the train and the ferry, so the whole of Europe is open to you (on the train you can even make a coffee while travelling, its gotta be better than machine coffee)
We had the oven instead of the microwave (even though I am on holiday, I still like my Sunday dinner) it's as if you are at home, there is no limit to meals you can cook on it
I use a separate gas burner for boiling the kettle, rather than the hob, just because it's easier with a separate burner, I need both rings when cooking, and I also want a coffee
We bought plastic plates and mugs (available in the shop) just because they are easier to was, clean and are unbreakable, we bought clip together cutlery, just so we didn't lose the spoon
The cool box can be used as a freezer, but we have just used it as a fridge
We bought 2 circular cutting boards, screwed them together, we now have a covered for the sink, plus a chopping board
We also bought the suction hooks from the shop, handy for hanging keys, towels, clothes, anything you want to hang really
The Solar panel is a real boon when wild or bush camping (plenty of lighting, both in and out of the Go Pod)
It comes with a TV, but I haven't used ours, I prefer the radio on holiday
I also got a wheel clamp and a security box with mine (handy for on site and as it can be pulled by a Fiat 500, it's an extra bit of security (you don't want to come back and find you no longer have a caravan)
I did have to get my plug upgraded to fit the Go Pod (but my plug is year's old, anyway)
I would recommend staying at the local campsite even if it's just the one night, just to shake out any wrinkles and check everything is working
You will be told all about the A/C and electrical stuff when you pick yours up, but you will promptly forget them (but they are available on YouTube) and go back to be told again
You can wander around the shop for extra bits and pieces and they aren't backward with the discounts, we bought an extra water container, 2 chairs and another table, with a nice discount (thank you to the shop)
When you are there, you can wander around, just looking, then go and ask questions, they will help answer all of them, even the ones you never asked (no such thing as a daft question)
We bought ours and it was white with decals on it, they now come in many colours, I wish I had the choice)
If you aren't sure if a Go Pod is for you, I will be surprised if you don't come back and order one. which one though is up to you, save money and go for top of the range, work it out yourself, you'll see what I mean.

Best Buy We Have Made In Many Years.
review by Sticktogolf
We bought our Platinum Go Pod in early 2016. We live over 300 miles from the showroom and did all our research online before deciding to buy one without viewing one. We decided on the Platinum edition because of the high spec and that if we bought a different spec and wanted to upgrade then it would result in. 600 mile round trip back to Southport.
We had never owned or towed a caravan before but have had no problems in towing and sometimes you forget you are actually towing. We have had great fun in our POD and wouldn't be without it. We are so enthusiastic about it that we now proudly offer to show it off to those who do not want to travel so far to view one and have now helped at least two purchase one. Love it. Happy podders!