Pre-order benefits for Go-Pods
Posted on
Fancy a Go-Pod but not sure for 2020?
It's now possible to pre-order your Go-Pod up to 12 months in advance and there's a number of very significant advantages to this too;
Firstly, it will freeze the current price for you. Price increases are usually applied towards the end of the year and with the Go-Pods' main construction taking place in our Portugal plant, we can't yet tell how leaving the EU will affect things, certainly in terms of import duties. So ordering now means you'll get a fixed, pre-Brexit price.
Secondly, you can reserve a collection date that suits you. Popular months tend to get booked up a long way in advance, with March, April & May slots normally filled before Christmas. By ordering now, you can secure a slot and ensure that your Go-Pod is ready for making the most of the summer.
Delivery can get as high as 14 weeks in the busy times, sadly meaning that by the time many people have decided to buy, they're already too late for most of the summer season.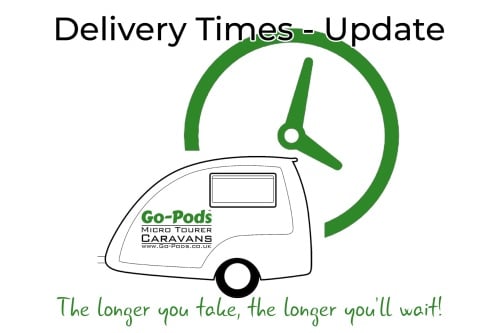 The whole pre-order system is very flexible, so should you decide to bring your order forward, (for a spot of winter Podding perhaps), then you can even do that too.
A deposit of £1000.00 secures your order and can be paid by debit card, credit card or bank transfer when you pre-order online. And because Go-Pods hold their value far better than regular caravans or campervans, you can order in confidence knowing it makes great financial sense. With banks offering little or no interest on your savings, putting down a deposit now could actually save you money.
Then, not only will you have a major camping comfort upgrade to look forward to but you will receive the very latest spec at the time or your collection.
Once you start to compare, it becomes apparent that Go-Pods are more practical, cheaper to buy & cheaper to run than other camping upgrade options. With it's one-piece fibreglass shell, minimal set up time, standing room to dress & cook and a comfortable king size bed - they really tick all the boxes!
Ideal for singles, couples & young families.
Anti-snake, anti-wobble towing.
All the comforts in one convenient, comteporary design.
Welcome upgrade for those camping in tents.
The smart alternative to a campervan.