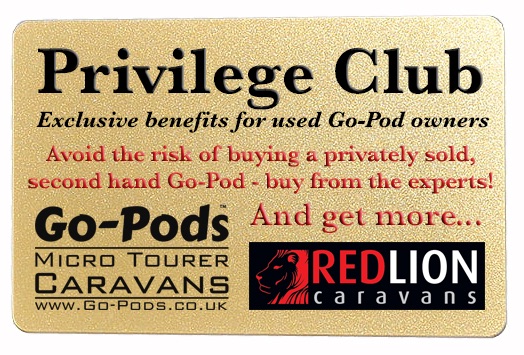 Take the risky business out of buying a used Go-Pod with free membership to our pre-owned Privilege Club.
When you buy any used Go-Pod direct from us, you'll automatically benefit from the host of customer privileges as listed below.
Avoid getting stung on eBay - with no come back!
Available for all second hand Go-Pods bought direct from Red Lion Caravans Ltd, from August 2019 onwards.
Pre-purchase manufacturer's check.
Pre-purchase valet.
12 month warranty - upgradeable to Nationwide coverage - ask for details.
Free Starter Pack - Fitted gas bottle, EHU lead, security bundle & water container.
A dedicated after-sales contact.
Full 20% off the cost of servicing.
Complimentary Pod-wash & a free coffee in the Pod Cafe - when you book a service.
Free fitting of bulbs.
Free '12 month on' health check.
Take the worry out of buying second hand... buy from the manufacturers.
To check out our second hand stock - please click here.