Can My Car Tow A Go-Pod? | Go-Pods Micro Tourer Caravans | Go-Pods.co.uk
The current Go-Pod model has an MTPLM of 750Kg.
One way to check your vehicles towing allowance is to refer to its V5 document, which will normally state the 'braked' towing capacity.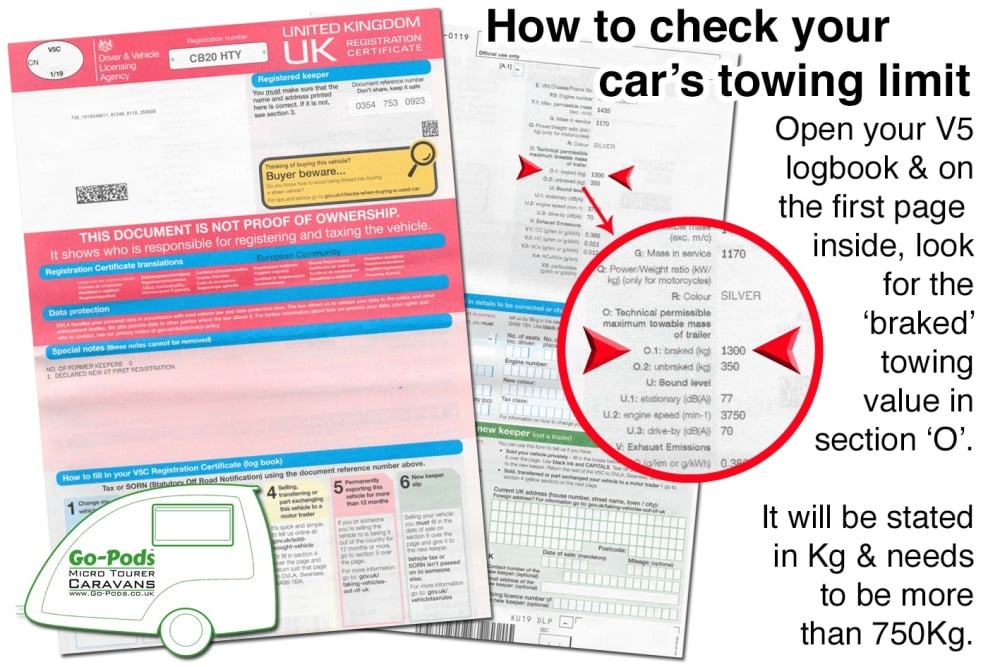 Example V5 showing where to find your car's braked towing capacity figure.
However, not all V5's show this information, (including V5's of older vehicles), so you may need to look elsewhere such is in the car's owner's manual.
In the Technical Section of the vehicle's manual, you'll also normally find the towing allowances stated in Kg and again, there should be two figures quoted.
The lower figure is for an unbraked trailer, (a trailer with no brakes), and can be disregarded as all Go-Pods have independent brakes fitted. The other value shown is for a braked trailer. The Go-Pods braking system automatically applies itself as you slow down and the higher 'braked trailer' figure is what you need. This figure must exceed the MTPLM of your trailer.
Another avenue to try is your car's main dealership who may be able to help confirm your vehicle's towing capacity. However in our experience, some sales staff are unfamiliar with being asked this question relating to smaller cars and sometimes give incorrect advice rather than investigate.
One other good indication of whether a car can tow, is if a towbar is available for it. This might take a little digging, as less popular towbars are harder to source but if you can't find one, it may confirm your other research.
Alternatively, many websites offer charts showing cars and their associated towing capacities, such as the one linked to below.
Online Car Checker - click here.
Please note this is an external resource & the data compiled has not been confirmed by us.
We therefore recommend that you verify results using one or more other methods mentioned above.
Gross Train Weight Method:
If the car's towing allowance isn't listed on the V5, handbook or a specification sheet, alternatively the vehicle's 'gross train weight' may be listed on the vehicle identification number (VIN) plate on the car. This is normally under the bonnet or inside the driver's door. The gross train weight is the weight of the fully-loaded car plus fully-loaded trailer and must not be exceeded. If your VIN plate doesn't list a train weight, you should not use your vehicle for towing.
Remember:
If your car has a towing allowance of 750Kg or more, it can tow a Go-Pod.
Always conform to the official towing & license advice provided at the .Gov.UK website. Regulations change & other websites, (including ours), may lag behind.
For more info on weights - click here.
Licences:
All drivers with full UK licences can usually tow a Go-Pod plated of 750Kg or more. For more information on this please visit the .Gov.UK website - click here.

Towing Equipment:
Once you have checked your vehicle's towing capacity, you will need to arrange for a towbar & electrics.
We don't provide this service as it is specialist work.
You will require a standard 50mm diameter tow ball and 13 pin Euro socket electrics. This socket will accept the Go-Pods 13 pin plug which works the towing lights, charges the caravan's on-board battery and powers the fridge in transit. If you're tow vehicle has twin electrics you can buy an adaptor to convert the leads. If you have only 7 pin electrics on your car, you can still tow with an adaptor but it will only operate the driving lights & won't power anything else.
Regarding extension mirrors, the Law requires that drivers of the towing vehicles have adequate view to the rear. With the Go-Pod, most vehicles existing side mirrors allow for a good view along the entire side of the caravan and extension mirrors are not therefore required.