Here are some insights from people who have discovered those hidden issues for themselves.
The number one gripe we hear from campervan owners is not having a run-around vehicle when away. This means that each time you want to nip out to the beach or to pick up supplies, you'll have to break down your entire camp before you go, then set it back up again afterwards.
In fact, we sell Go-Pods to many VW owners for this very reason!
They sleep & eat in the Go-Pod, leaving it set up as a base on the campsite - then end up using their rather expensive motor camper as a day vehicle.
Often the camper isn't the complete answer that they'd hoped it would be.
Many even already owned a car that would have adequately pulled the lightweight (750Kg MTPLM), Go-Pod too if only they'd known.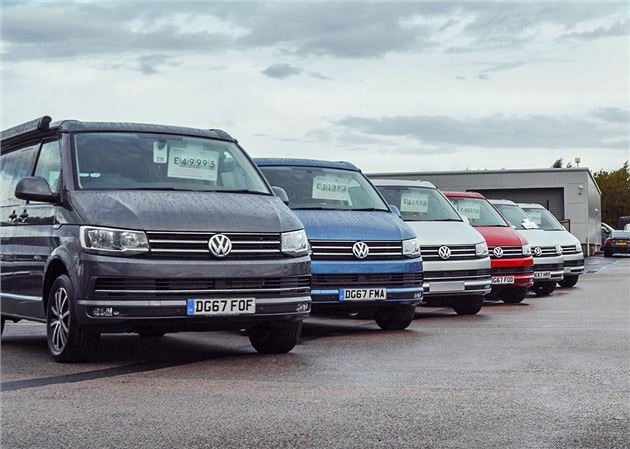 CamperVans can be pretty pricey so surely that makes them even more desirable?
But wouldn't it be great to spend some of that tied up money on enjoying your trips instead?
What's more, unless the camper is to become your everyday ride, (which isn't always very practical), you'll be hit with the extra burden of running a second vehicle. Tax, insurance, MOT's and servicing - not to mention depreciation.
Best of all, Go-Pods don't devalue like camper vans either, making more, good financial sense.
At the top end of the motor camper market, people can easily lose sums equivalent to the cost of a Go-Pod, in just the first year's depreciation!
Meanwhile, Go-Pods hold their value very well, (due in part to their robust, one piece GRP shell), & drop a fraction of their RRP, even after many years. Making them altogether a far less risky investment. Check the prices now - click here.
Practically speaking, many camper vans offer less day-to-day living space & something that is often overlooked is the available standing room, once the bed is made up.
Many campervans leave no room for standing, so once the bed is made, you'll be making the coffee on your knees & pulling your jeans on laying down! Certainly not great for the back, especially on longer trips.
Go-Pods provide a convenient standing area, even when the bed is made up. You can cook a meal, make a hot drink & get dressed - all while standing comfortably. Even the loo can be used inside - making all the difference when you're actually travelling. And with the bed easily made / stowed away in seconds, theres plenty of sitting and dining space.
From a comfort perspective, many campervan's rock n' roll style beds can be bumpy & small. Compare this to the Go-Pod's large, flat, king size bed platform, complete with it's 10cm foam mattress for a sound night's sleep!
Supplied with a full size, quick set up air-beam awning for additional living space whenever it might be required. You can even add bedrooms!
While for a more alfresco feel the Go-Tarp is a sun/rain canopy with built in UV protection and plenty of room for a table for two.
Prices include many features that other manufacturers charge extra for and to further enhance your enjoyment, there's a whole range of accessories that allow you to tailor things to your own way of camping.
Visit our shop for options.
Go-Pods are compact, designed to be easily handled, (even solo), and tow with superb ease. They are narrower than many campervans and are designed never to snake or wobble.
You don't even need extension mirrors and will never be stuck in a tight spot. Even if you don't fancy reversing, you can unhitch in moments, spin the Pod on a sixpence and be away in no time at all! Whilst being a true micro-tourer, Go-Pods are nothing at all like towing a regular caravan. They have their own built in brakes and no towing experience is required.
Any questions? Contact Us!
Please complete the form below and click the Send button to get in touch with us.
Thank you for submitting the contact form.