Although we don't have any dealerships in New Zealand, it's still possible to buy one from the UK and have it shipped to your door. And it's not as difficult as it sounds!
Our dedicated NZ website is now live!
Go-Pod lands in NZ!
An interesting letter from Tessa who bought a Go-Pod online and had it shipped over to her in New Zealand...
Hi Phill,
I hope you have had a relaxing and happy Christmas, probably less busy now its winter over there. Its 28 degrees here today.
Here is a picture of the Pod on it's way home to Nelson, having just traversed the Lewis Pass, one of NZ 's highest alpine road passes.
It finally was unpacked from its container in Christchurch, after 54 days in transit. It was so exciting to finally see it in reality and looking ever so tiny and cute. I am rapt with it.
I had no problem towing it with my Mazda 2 car, and unlike Britain New Zealand has very hilly and windy roads.
Am still sorting through all the technical stuff and might have a few queries for the after sales team.
I am so grateful for all your help in making the purchase and getting it on it's way to New Zealand. It's already got lots of attention and astonishment that so much is packed into such a small space , and able to be towed by such a small car. So I'm sure the pamphlets you tucked into it will be quickly distributed when it gets its first camping trip in early January.
Hope you have a happy and safe new year.
Cheers Tessa.
Cost note from Tessa: Jan 2019.
The total amount for shipping, including 15% GST (the NZ version of VAT) and 5 % import duty was , NZ $ 8921.
Bearing in mind the the GST and import duty was equivalent to the UK 20% VAT that was not charged due to being overseas and it was very similar to the original UK price.

Update from Tessa - January 2019.
I just thought you may be interested to know about the conversions to NZ standards of my Go-Pod.
The electrics were fairly straight forward, just replacing the 3 British outlets, the fridge plug and the British RCD. The electical 'Warrant of Fitness' was also issued at the same time. The WOF of both gas and electrics are mandatory in NZ .
The Gas fitting was a little more problematic as NZ standards don't allow for Gas bottles Inside the vehicle. Initially they were talking about having to put a door in the outside of the shell so the gas bottle could be accessed from outside. As you can imagine I was not happy about this idea! After a lot of head scratching and consulting with other staff and resorting to the gas standard regulations manual, they managed to find an exemption. The end result of this expensive exercise was numerous pipes , a much smaller gas bottle and sealing up the cupboard.
So in my opinion any other Pods being shipped here should opt for the front box with gas bottle outside option, which would comply with NZ standards.
The electric bill was NZ $ 409.26, which included the WOF cost of $60. The gas bill was $661.74, including WOF $120. So all in all allow approximately $1000.00 NZ for this.
Hope this all is useful Info for you.
Off on a lot longer trip in 2 weeks when the worst of our current heat wave is over and all the kids go back to school.
Cheers, Tessa.
To request to see Tessa's Go-Pod please email her on: [email protected].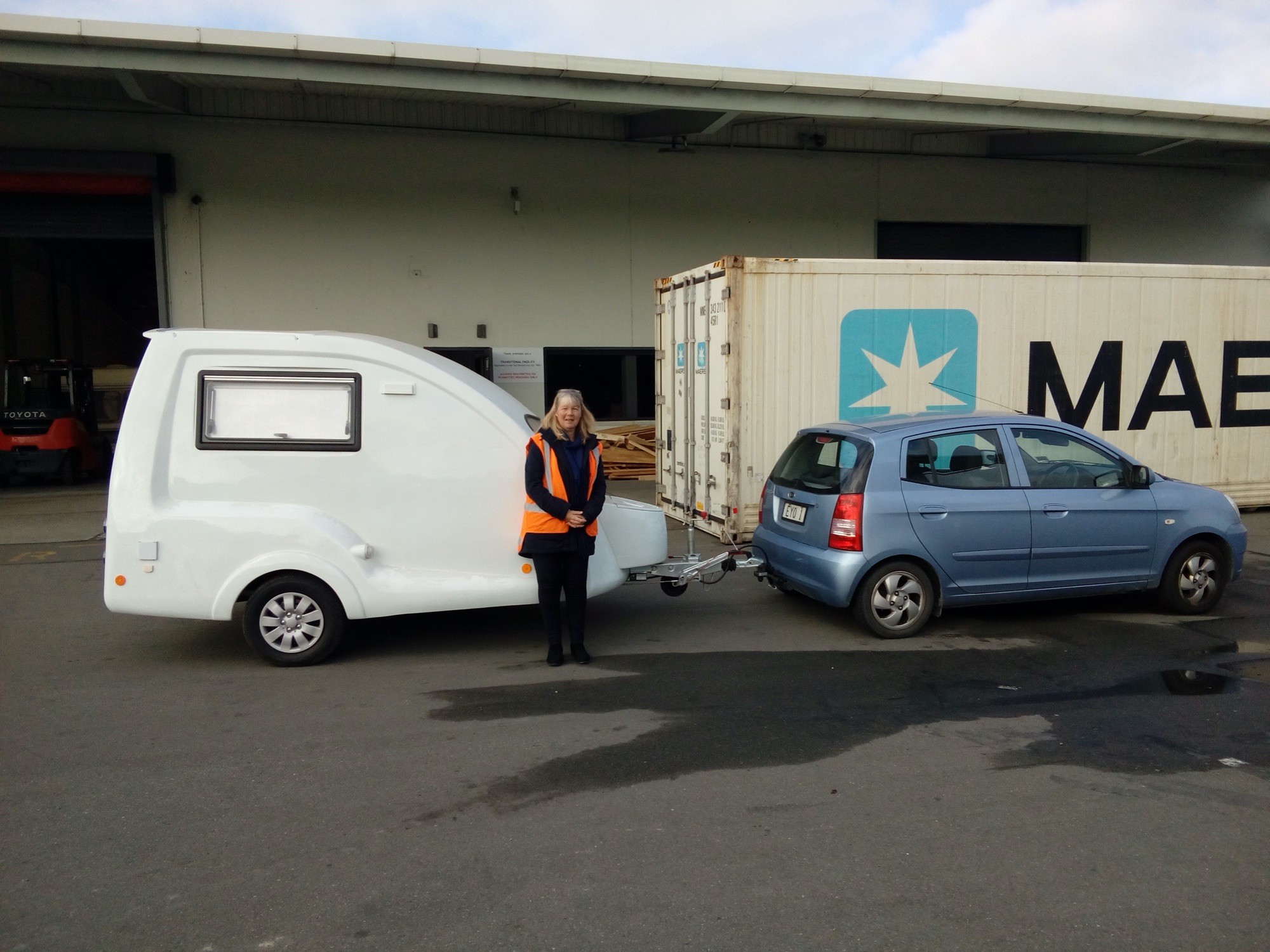 Fiona has become the third member our Owners Viewing Programme in NZ! Here's what she had to say;
"Hi there, just a note to let you know I collected my Go-Pod a few days ago. Surprisingly Covid-19 only delayed departure from Hull. UK by a few weeks, so by the time it arrived in Lyttleton NZ I was able to drive down and collect it.
My little Kia Picanto 1.2lt car managed to tow it over a couple of mountain ranges and all around the Kaikoura coastline that is still under repair from the earthquake damage a few years ago. The adventures begin! I love it.
Many thanks, Fiona Esplen from New Zealand."
Fiona is based at Blenheim, 7201 and is available for viewings & advice. Interested parties can contact her direct on [email protected]