Jockey Wheel Advice
Posted on
It's important to secure your jockey wheel properly while using your Go-Pod and here are a few tips on how to overcome some common issues.
On this example shown, the bracket has been clamped up too low down on the jockey wheel. It should be clamped around the larger diameter top part.
However, it is also possible to tighten the jockey wheel clamp on the larger diameter tube but still have it looking crooked like this.
The arrow labelled '1' in the photo below shows where the clamp should be ideally.
To correct any issues like this, we suggest supporting the front end of the Go-Pods hitch using something that is substantial enough to take its weight. A axle stand, block of wood or bricks maybe. Take suitable care with this and ensure the handbrake is applied.
With the support in place wind the jockey wheel up, so that the whole weight of the Go-Pod now rests on the support you prepared, thus raising the jockey wheel up in to the air.
If the smaller diameter tube is over extended, continue winding until most of it is inside of the larger diameter outer tubing.
Once the jockey wheel is off the ground you can release the clamp lock, (number 4 on the photo), taking care not to drop it on to your toes!
You can then ensure the larger diameter tube is correctly positioned in the clamp.
TIP! Wiggle the jockey wheel as you re-tighten the clamp lock, to ensure it is straight & properly seated in the clamp. Clamping it up wonky is a common issue as is failing to tighten the clamp suffeciently - as they can begin to work loose unless if they're not properly tightened.
With the jockey wheel adjusted and the clamp tight, wind the handle, (3), again so that the wheel touches the floor and jacks your Go-Pod up, off of the support. You can now remove the support.
A jockey wheel that is clamped crooked, will often jump straight suddenly, (as you move around inside), and will result in the clamp becoming loose. This can cause the front of the Go-Pod to drop without warning and although alarming, this is not normally detrimental.
If this does happen, just re-set your jockey wheel is the way described above. Jockey wheels are seldom faulty and the majority of issues are user related.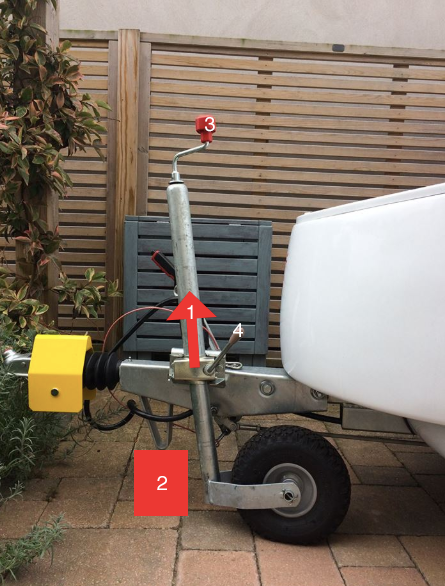 If in doubt, please contact the After Sales Department on 01704 889973.