10 things you need to know about the custom caravan of the year!
Posted on
If you're here, you probably love camping... but have you ever considered having your own completely custom caravan?
The Go-Pod Camper is a newly available model of the world-renowned Go-Pod (recently featured on Top Gear in Nov, 21) that has a wide range of bespoke options to choose from - allowing you to tailor the design to your own tastes and needs. It's perfect for those seeking a luxury experience.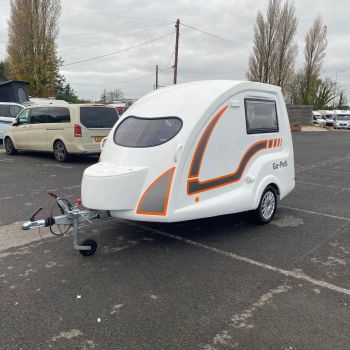 The Go-Pod Camper is made from a one-piece GRP shell that eradicates seam-leaks and water damage. This shell can be provided in almost any colour of your choice and is great if you want to match the Go-Pods aesthetics to your current car or fashion style.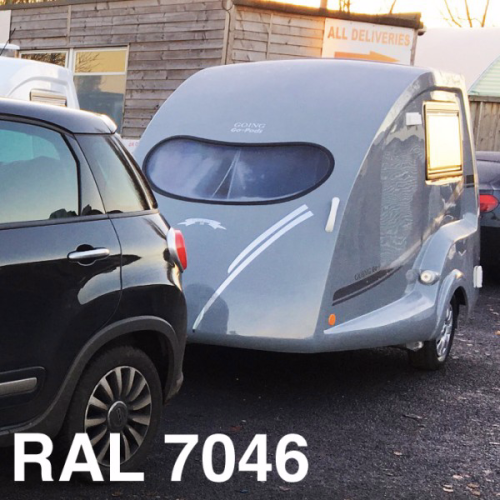 On either side of the GRP shell, there are side panels that can be decorated with any artwork of your choice - just let us know what you want, and our in-house designer will take care of the rest. This is great for really showcasing your personality on the road, or for advertising your business.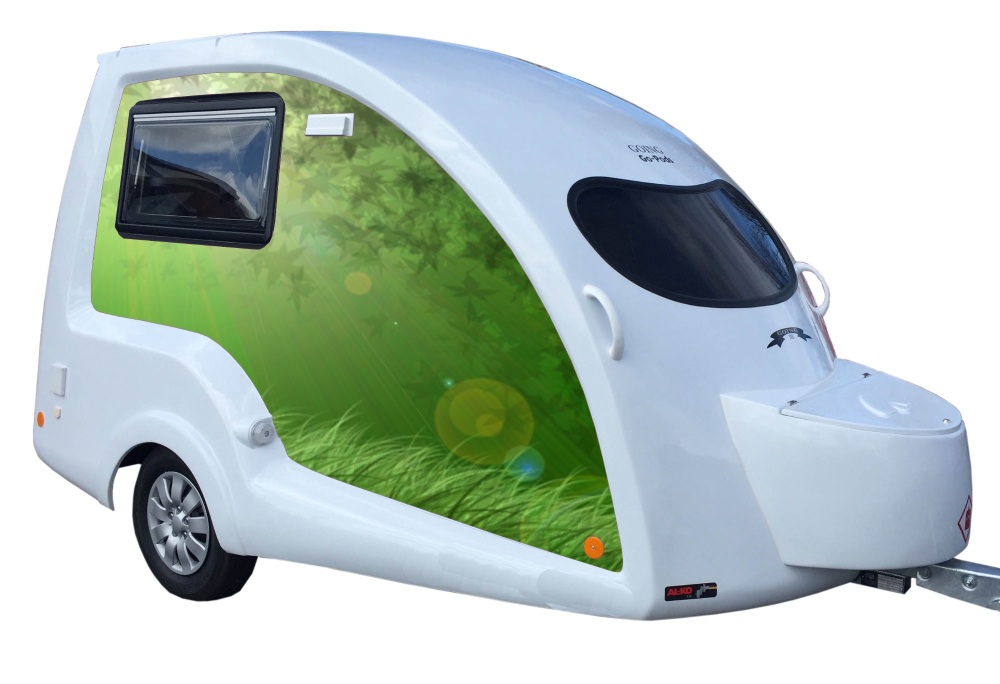 3. The interior is completely bespoke, and there are multiple options to choose from.
This is where it gets really interesting! The interior is customisable in the following ways: wood colour, worktop colour, trim colour, main fabric colour and fabric piping colour.
There are several options to choose from for each, and the limits are up to you - match it to the outside of your pod, or let loose and try something new! Have a look at what other customers have done here.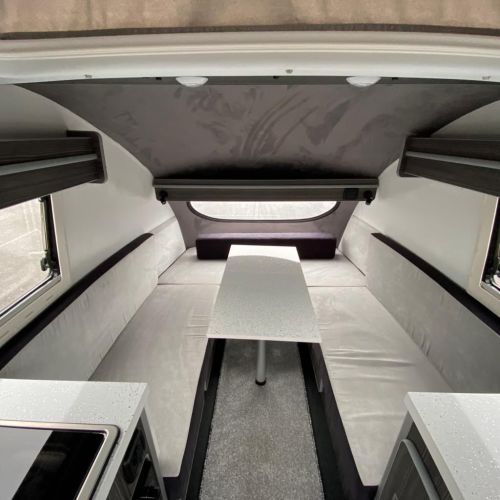 4. It has so many features that it's hard to fit them all into one post!
The Go-Pod Camper includes many creature comforts and upgrades that simply make it one of the best caravans in the market for its price range. There simply is no other bespoke caravan that it can be compared to in terms of style, and quality finishing - it is absolutely in a league of its own.
Here are some of the features below:
exclusive high-end wood finish options
Custom upholstery with matching curtains
Wide range of detailing options
Thicker worktops - choice of finishes
extra worktop with in-built wireless charging
larger table - matched to worktops
microwave
front opening fridge upgrade (CRE50)
TV/DVD
dual-fuel blown air heating (240v & gas)
dometic sink/hob combo upgrade
alloy wheels
full airbeam awning (model may vary)
100w solar panel
Tassimo coffee station
Bluetooth speaker
Smart TV
Controllable LED lighting strips
5. Campervan owners love it!
Many campervan owners are realising that they want something smaller, and easier to use. Something where they can leave their base set-up, and use their normal car to go exploring - instead of having to pack-up and drive around a motorhome that is hard to find parking for.

That being said, some campervan owners are even using the Go-Pod Camper as the ultimate campervan accessory - to provide extra sleeping for their children, and to be able to leave their base set up when they leave camp for the day.
The Go-Pod Camper has a luxury finish that makes it reminiscent of campervans / motorhomes, but in its own unique and developed stye. You definitely wont feel uncomfortable in one of these.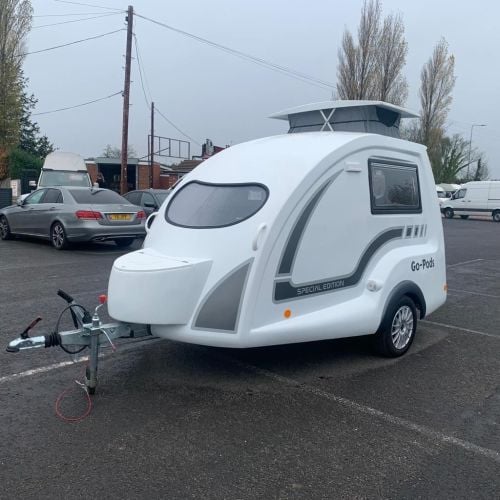 6. They make great sense financially.
A good campervan nowadays can put you behind for hundreds of thousands of pounds - the upkeep is enormous, and generally speaking they can depreciate wildly in value in the space of just a few years.
Go-Pods however, hold their value very well and there is a strong market for pre-owned Go-Pods - meaning, as long as the design is in good taste , it should be relatively easy to sell your Go-Pod on in the future if you ever feel like you want to move on.
7. The Go-Pod community is amazing!
Go-Pods has an extremely strong community, primarily led on Facebook - but it spreads to most platforms and all across the world. A large number of 'Podders' provide invaluable information to eachother, gained through years of their own experience in owning the world's best micro-caravan.
We attend events and expos every year, so if you ever want to pop by and say hello - just keep an eye on our events calendar for anything upcoming. Or message us for more information.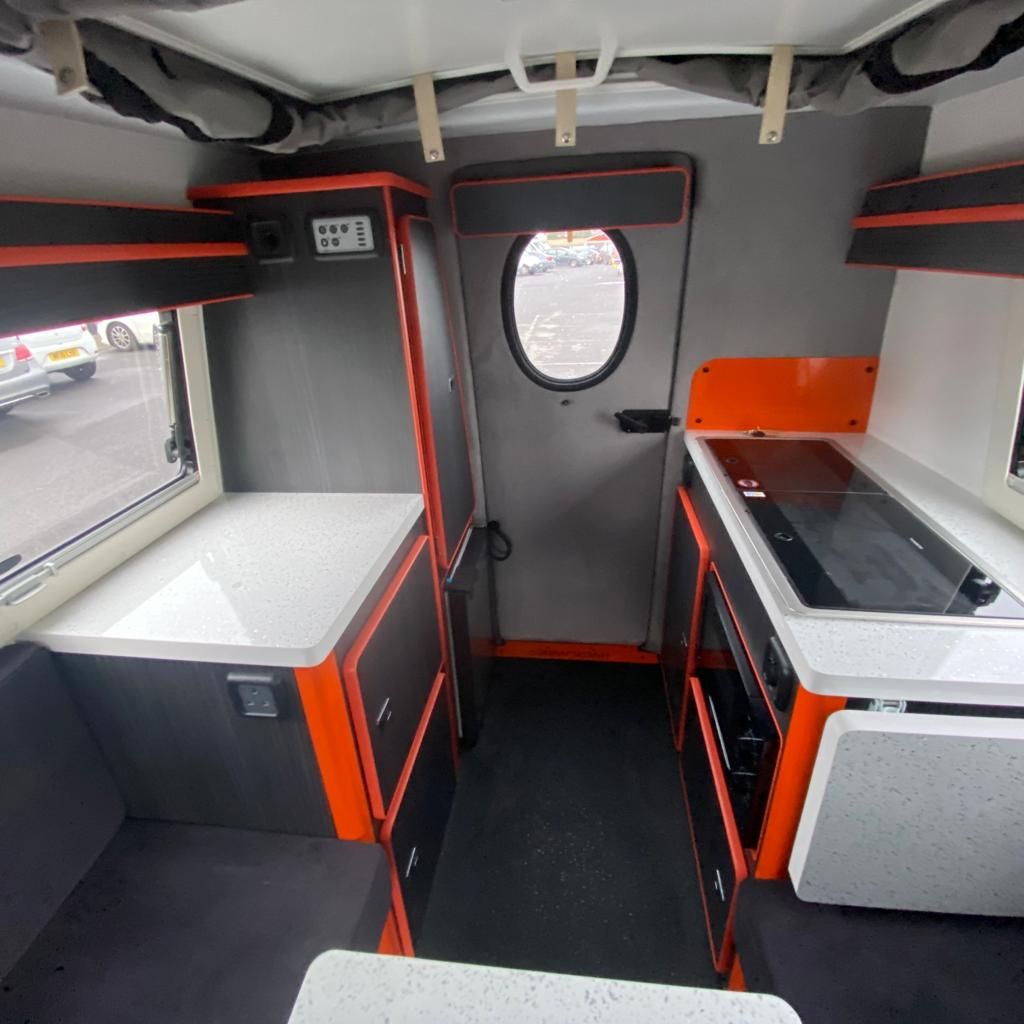 As the Go-Pod Camper features its own solar panel, that can power the 12V fridge, on-board heating and leisure battery - it's possible to use a Go-Pod Camper off-grid, or as a portable office.
It has an on-board camping toilet, ample storage space and a great kitchen area for any meals-on-the-go. One of our Podders in Australia has actually been using one to live semi off-grid in order to be closer to his place of work during the coronavirus pandemic. Read more about that here.
The Go-Pod Camper includes many smart features that bring it above the mark of plain old ordinary caravans - with things such as wireless chargers and USB ports, it makes it extremely easy to bring your existing tech on-board to use when away on your travels.
It also includes a SMART TV that can be installed with apps such as Netflix - this SMART TV can be connected to the included bluetooth speaker, providing a home-theater surround-sound experience in your pod. In the meantime, brew a cup of coffee with your included tassimo machine.
On top of all this it includes controllable LED lighting, that can be changed to any colour of your choice - matching whatever mood you're currently in, and dimmable to allow for night-time use.
1. Visit the shop listing for the Go-Pod Camper here.
2. Select your chosen wood, fabric and trim colour options shown on the listing.
3. Add your Go-Pod Camper to the basket.
4. Add any upgrades such as custom shell colours and decals into your basket by visiting the add-on section.
5. Checkout & place your order! A sales rep will contact you shortly after to arrange further.
If you have any questions about the Go-Pod Camper, please contact us.