Can electric cars tow a caravan?
Posted on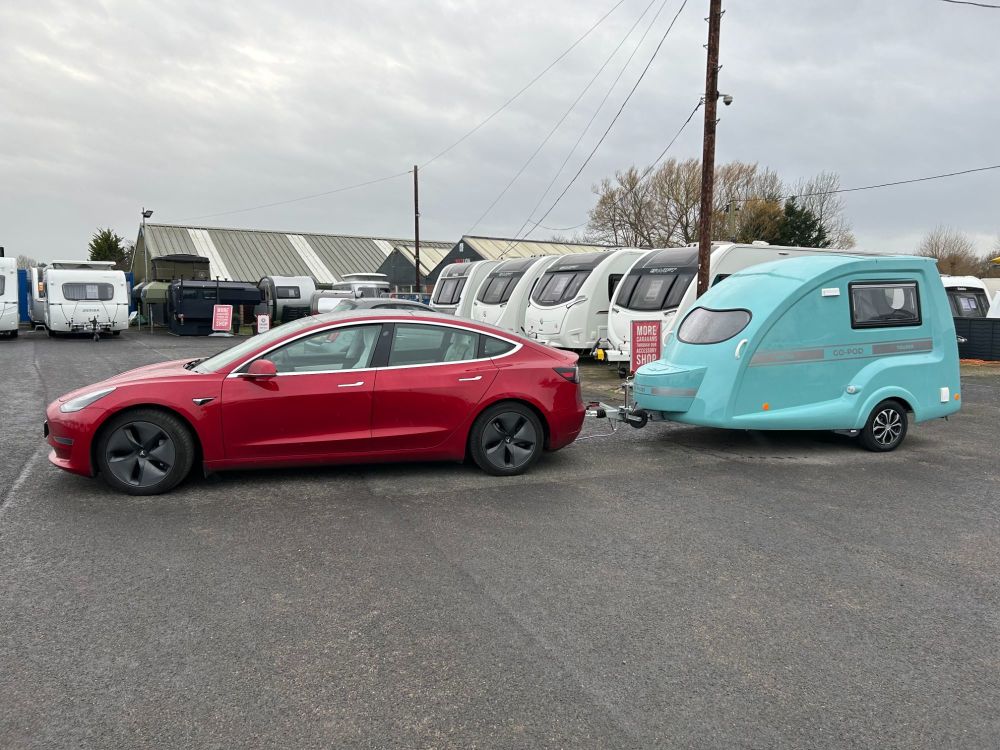 As EV's (electric vehicles) increase in popularity, inevitably the question 'can electric cars tow a caravan?' is becoming more common.
Thankfully, there's a simple answer to that – yes you can! Or rather, there are caravans & trailers on the market with low MTPLMs (Maximum Technically Permissible Laden Mass) that are suitable for towing with an EV.
The Go-Pod, with an MTPLM of just 750kg, is one such caravan. It's a 2 berth 'micro caravan' with a one piece shell, and all of the features you'd expect to find in a full-sized caravan! Its aerodynamic design means less wind resistance while towing, and ultimately less strain on the tow vehicle, and the wheels are slightly offset towards the rear of the Go-Pod, providing more stability while in transit. No need to worry about the horror stories of caravans snaking and upturning on the motorway in high winds. The Go-Pods have no such problem.
Towing Capacity
If we take the Tesla Model X for example, it has a huge towing capacity of 2,250kg – 3 times higher than is required by the Go-Pod. Now obviously, it's legally 'well in the clear' to tow a Go-Pod, but that's not the only consideration to make when towing with an EV.
While the Tesla Model X can be considered an SUV/EV hybrid that is well suited to towing due to the larger battery and towing capacity, the most popular Tesla EVs are currently the Model 3 and Model Y. The Model 3 has a more modest tow capacity of 1,000kg, but even this is more than enough to tow a Go-Pod - though it should be noted that the expected range will be much lower than with the Model X. Likewise, the Model Y comes in with a towing capacity of 1,600kg, which while lower than the gargantuan 2,250kg capacity of the Model X, is more than enough to tow a Go-Pod without a significant drain on battery range.
Expected Range
Regardless of weight, towing anything with an EV will reduce the range and there are a few factors that affect this, but the rule of thumb is that the heavier the trailer/caravan that is being towed, the further it will reduce the expected range of the tow vehicle. The common wisdom is to expect a 50% reduction in range, when towing at full capacity.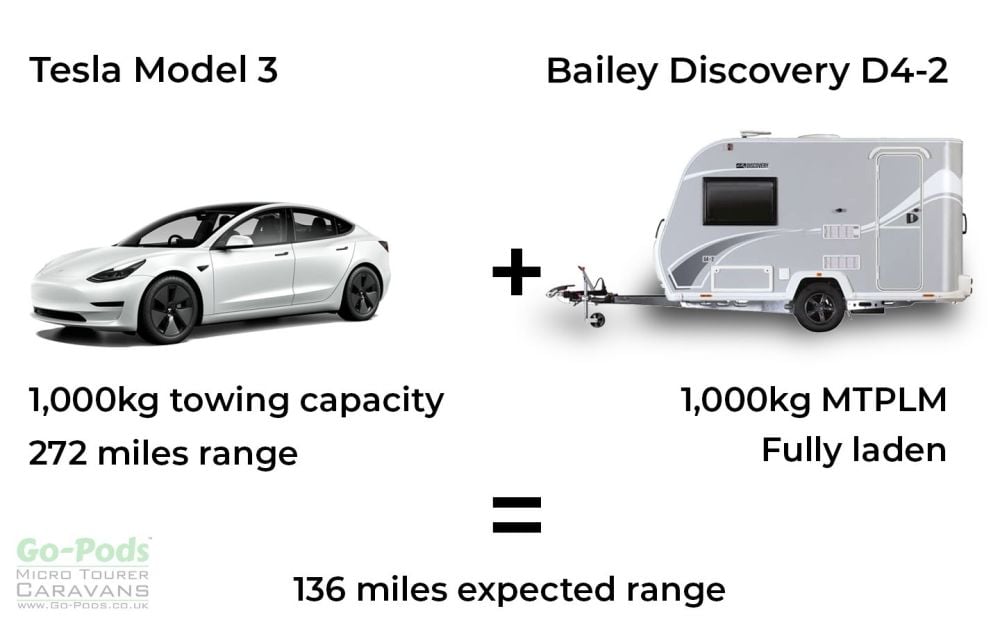 With the Go-Pods being so light in weight, the EV towing it will have a far greater range than you could expect while towing a full sized touring caravan, meaning less stops to recharge and reaching your destination sooner!
Best Electric Tow Vehicles 2022 (as per Autocar.co.uk)
This articles focus is primarily on Tesla vehicles (check out the article pic of a Tesla Model 3 towing a duck egg blue Go-Pod – what a combination!) but there are a wide range of EVs that are capable of towing these days. Autocar.co.uk has an excellent run down of the 10 best electric cars for towing in 2022 – full article here.
Here's a summary of their results;
BMW iX – 2,500kg towing capacity

Genesis Electrified GV70 – 1,800kg towing capacity
Audi E-tron – 1,800kg towing capacity
Mercedes-Benz EQC – 1,800kg towing capacity
Mercedes-Benz EQA – 750kg towing capacity (EQA 300 4Matic & EQA 350 4Matic models have 1,800kg capacity)
Volvo XC40 AWD & C40 Recharge AWD – 1,800kg towing capacity
BMW i4 – 1,600kg towing capacity
Genesis GV60 – 1,600kg towing capacity
Kia EV6 – 1,600kg towing capacity
Hyundai Ioniq 5 – 1,600kg (larger 73kWh battery models)
Volvo XC40 FWD & Volvo C40 FWD – 1,500kg towing capacity
Polestar 2 – 1,500kg towing capacity
Ssangyong Korando e-Motion – 1,500kg towing capacity
The above isn't an exhaustive list by any means, but it does show that the EV market has come a long way in the past few years. With more competition in the EV market every year, and more ICE manufacturers throwing their hats into the ring too, the demographic of people who would like to tow with an electric vehicle can no longer be ignored – so watch this space for further improvements to towing capacity and range!
UPDATE: Go-Pod owner Jeff in Hove, who tows with a Tesla Model 3, is now offering viewings of his Go-Pod via the Owner Viewings Programme. Contact him by sending an email to

[email protected]

to request a viewing.
Go-Pods are available to purchase now at www.Go-Pods.co.uk.