Off grid camping & caravanning - an awesome way to socially distance whilst holidaying this year!
Posted on
Have you considered camping off hook-up?
With the current situation in the world, an inevitable concern of travelling may undersatndably start forming in our minds. Many people are already considering other options when thinking of their summer holidays. Those who would usually fly abroad might no longer cherish the recyled air of the cabins & doubt the sanitary condition of their hotel rooms. Many of us already choose UK camping holidays and there's no better way to safe holiday, away from crowds. We'd like to share some great tips for any potentially new campers!
Camping can be undertaken in different ways and many start by tenting although sooner or later often yield to the extra comfort of a caravan, camper or micro tourer.
Wild camping refers to setting up your camp outside of a designated campsite but remember for the UK, you can only legally do this in Scotland or certain spots in Dartmoor with a lightweight backpack tent. There are also other spots for wild camping across Europe, however I will be including these locations in more detail on my next blog for Go-Pod.com. (The EU branch of Go-Pods).
Most of us opt for the convenience of campsites and you can choose to be on or off of an electric supply called 'hook-up'.
Being off hook up at a campsite would often be reffered to as a 'green pitch' and amongst the benefits is that they're cheaper, seeing as they don't include any electricity. Also a lot of green fields are positoned nearer to the sea, with better views. However, although they can be reserved for tents, many sites will let smaller units like Go-Pods in too, if you ask nicely enough!
On green pitches you still get access to campsite's facilities such as the toilet / shower block, washing up room, etc but you may feel that these communal areas might best avoided for now.
All Go-Pods come with a fully flushable camping loo of course & adding our 'Camping Shower Bundle' you can be fully self sufficient & self isolated anywhere! A popular accessory that's light, packs away small and perfectly compliments the Go-Pods' theme.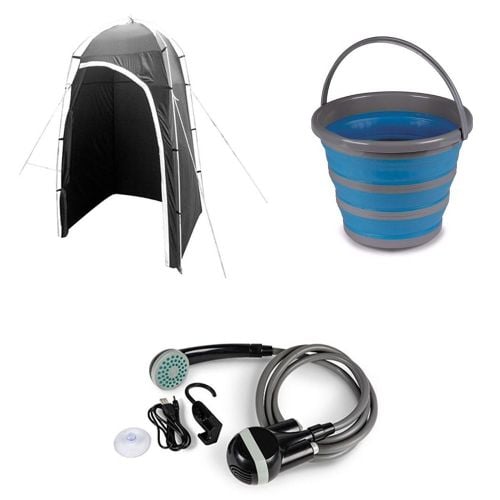 (Photo source: Go-Pods.co.uk camping shower bundle product page.)
Adding a 'Camping Shower Bundle' provides total independence, consisting of a shower cubical tent (that can also double up as your toilet tent and a storage area for chairs, bikes etc), a powerful 12V shower unit that can be recharged form your Go-Pods power supply and a 10L water reservoir for holding any warm water. This really is a surprisingly invigorating camping shower & is easy to use either on or off of the campsite.
Hold on there for just a minute! Did you know that we currently have a great Facebook Give-away running for our anyone who could use a camping shower? And you don't have to own a Go-Pod to enter!
With an RRP of £149.00 we have 3 bundles to giveaway. Just follow the entry procedure shown on the following link for a chance to win a 'Camping Shower Bundle' and if you have any friends with tents or campervans, then please let them know as it will work great for them too. Good luck!
Facebook Give-away Prize Draw Entry - please click here - and feel free to share.
To continue - Go-Pod micro tourers come with a very impressive range of standalone features, meaning you can travel absolutely anywhere and still benefit from good social distancing practices and safe holidays.
Features include a gas powered, twin burner hob that runs off your onboard gas supply for your cooking and hot drinks. Dual fuel blown air heating also works from the gas, to keep you warm when off hook up too.
The ample lighting system incorporates LED, low consumption bulbs for minimal draw from onboard 12V leisure battery which in turn, is topped up by an impressive 100W solar panel that's permanently sited on the roof, to trickle charge the battery.
An external water supply, with built in electric pump to the sink, saves space inside. Many people like to take some bottled water too for drinking.
Every Go-Pod has a compact, flushable camping toilet that's fully functional and space saving. The loo stores neatly away in its own cupboard under the wardrobe. Use the loo inside of the Pod or combine this with the tent in the 'Shower Bundle' perhaps, for a completely portable bathroom set.
Refridgeration just got cooler with our latest compressor fridge! Its a proper working unit, fully functional and operating solely from your Pod's leisure battery with no need for electric hook up.
For entertainment, even your flatscreen TV / DVD is LED and works from the 12V system too!
So with all of the above in mind, why not get away in a Go-Pod and holiday safely? It has all of the comforts you need in a compact, micro tourer style that still provides more living space than many expensive campervan alternatives. You really can't go wrong with one this summer!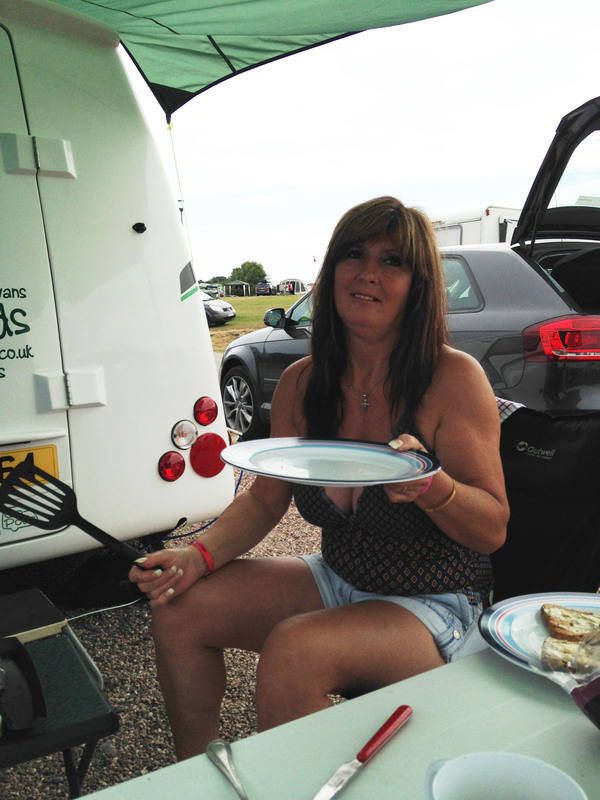 (Photo source: Sandra, proud owner of a Go-Pod cooking breakfast. Location: Woolacombe, Devon.)
Feel free to check out our website & shop page for more information.
Also, please make sure to stay safe at home, wash your hands & don't touch your face during this pandemic!
#GoPod #PodLife #CamperVanAlternatives #TentUpgrade #SafeCamping #SafeHolidays