Worried about towing? Check these owner reviews
Posted on
Even without any prior towing experience, Go-Pods are easy and hassel free to tow.
Here are some reassuring reviews from customers who have never towed anything before.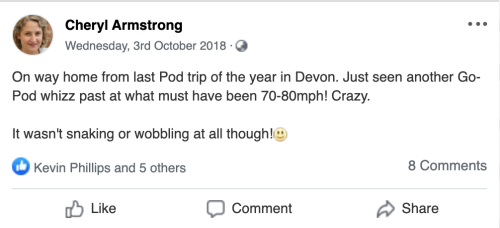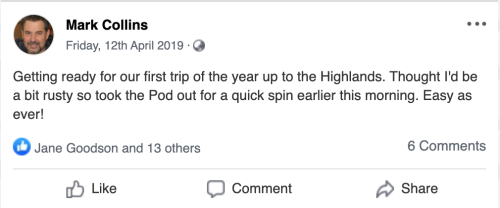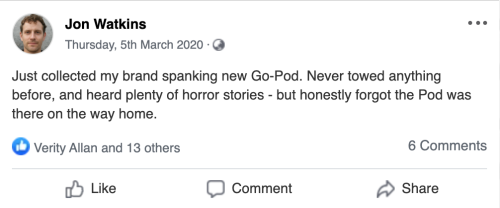 So whether you're young, more senior, single, a couple or a family - you'll find Go-Pods to be very easy to hook up and tow. You don't need any special equipment, mirror extensions, stabilisers or towing courses and the Go-Pods own braking system ensures that everything stays nicely under control - even in an emergency stop situation.
There will be no 'snaking' or wobbling even at motorway speeds, when going over high bridges or when a big lorry passes. Go-pods remain steady all the way.
Worried about reversing? Don't be! Go-Pods are easy to reverse, just keep it slow or if you prefer, unhitch, move the car, spin the Go-Pod caravan around then just hook it back up & go. You're never really stuck like you could be with a larger caravan or motorhome.
What about fueling up with a Go-Pod on? Well that's exactly the same as if it wasn't there. Just pull up to the pump refuel and you're on your way.
And for a little extra help on arrival, the ultimate in convenience is a motor mover. Then just unhitch your Go-Pod, engage the motor mover and slowly position your compact caravan in to the exact spot, effortlessly - however rough the ground is.
For more information on towing a Go-Pod please visit the following link or drop us a line.
http://www.go-pods.co.uk/caravan-towing-with-small-cars.html